Roberts Gemini RD-21 DAB/FM RDS radio

Published Oct 25, 2007 Author
petew
Review controls
We're now half way through energy saving week and are taking a look at a DAB radio with extended battery life. For anyone that's tried running DAB radios on battery know exactly how power hungry they can be - so any improvement is to be welcomed.
Buy Now
Roberts Gemini RD-21
DAB/FM Stereo Radio
£74.89 from Amazon

£79.95 at John Lewis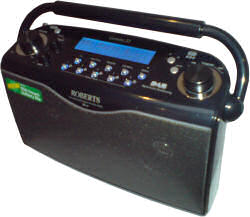 The Roberts Gemini RD-21 is a stereo DAB and FM radio with an output power of 3W in total. The FM portion benefits from RDS (Radio Data System) which will identify your FM station for you rather than have to guess. Sound quality is very good as we've come to expect from Roberts products. Unusually the unit comes with separate bass and treble controls, which can enhance listenning is various surroundings.
Dimensions are around 30cm x 17cm x 10cm (WxHxD) and weight around 1.5Kg.
Reception is provided by a five segment, 80cm telescopic aerial toward the back of the unit. Positioning means that directing the aerial for best reception is a little limited - you can't tilt forward more than a few degrees. In most cases this shouldn't be a problem.
All the controls are on the top of the radio. On the left are volume, bass and trebles while the right has tuning. In the centre is an attractive blue backlit LCD display along with preset and station controls. There are 10 presets for DAB and 10 for FM stations (20 in total).
Around the back you'll find battery compartment along with a stero headphone socket and a separate line out. There is no line-in for connecting your MP3 player, which is a pity.

I'm very pleased that, for a change, this unit connects directly to the mains, without yet another specific rat-tail power adapter to get lost or confused with another product. This does make the unit as a whole physically a little bigger than others, and increases the weight but in my opinion that's a tradeoff well worth while!
The unit can be run either from mains or from battery. One of the benefits of this unit over others is that it has much better battery life than comparable devices - boasting 150 hours from a single set of alkaline batteries. Anyone with experience of DAB radio will understand exactly how poor battery consumption can be when compared with a traditional analogue product. DAB is not a particularly environmentally friendly technology! The RD-21 uses a set of 6xD cells (the big ones), which is probably as much as you can get away with in a portable device, and is more than other products. The RD-21 is not however relying on more and bigger batteries alone to boost lifetime. For comparison I have two other DAB radios here - one makes use of 4xD cells giving approximately 30 hours use, the other using 6xC cells giving approximately 20 hours use. A very rough calculation based on that is that the Gemini RD-21 is around three times more efficient that comparable devices.
Price for the Roberts Gemini RD-21 is around £75, which compares well with other similarly specified products. If you want a good quality DAB radio with good battery life then that makes this a very good solution. If battery life isn't high on your requirements then this radio does look a little low on features when compared with the alternatives. The Gemini RD-55 that I reviewed recently for example retails at around £90. For that little extra money you get a comparable, stereo DAB/FM radio, but with the ability to pause a live transmission and to record onto flash memory cards - neither of which are possible with the RD-21.