USB Sticks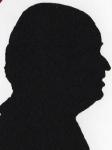 Just over a year ago Vista was launched and memory sticks got a new job as fast storage for temporary files. When it was launched I told you about a 2GB offering from SanDisk. There are of course others some others produced by different manufacturers some call their offerings ReadyBoost another calls it ReadyFlash. Either way they are still High Speed Flash Drives.

Verbatim USB Drive 4GB
This looks like a conventional USB stick drive, just for a moment think that not long ago a 4GB hard disc would be large. It is quite able to do the job of speeding up Vista and indeed does carry the ReadyBoost name.
However apart from part or all of the available space being allocated to Vista it comes with a £16.90 piece of software on it a full version of Carry It Easy + software. This enables several things including setting passwords for the data on your drive. With the cost of the sticks continuing to fall it's loss would be a nuisance, however anyone finding it cannot access the data assuming you have set a decent password.
The stick is 8cm long and 2cm wide with a slot in the end to allow you to fit it onto a keyring or perhaps safer to place it on a lanyard round your neck. Available in sizes from 1GB to 8GB.
http://www.verbatim-europe.com/index/product.php?cat_id=112&sub_cat_id=114&pid=332&lang_id=1

Kingston Data Traveller 2GB
This again is a conventional stick drive but perhaps with a dual identity, the stick itself says 'Enhanced for Windows ReadyBoost while the packaging calls it a USB Flash Drive Data Traveller ReadyFlash.
The one I tested was a 2GB version this is a little smaller at 6.5cm long and 2cm wide. You could probably just about feed a thin string through the end of the unit as there is a small fitting again round your neck is probably safest and in this case I doubt it would fit on a keyring.
Kingston offer a five year warranty on the hardware. Should you want encryption then they do a stick called DataTraveler Secure. Available in 1GB and 2GB sizes.
http://www.kingston.com/ukroot/flash/dt_readyflash.asp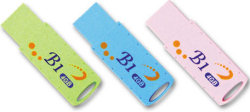 TwinMOS B1 4GB
Certainly the smallest at 4cm long and only 1.5cm wide and only 2mm thick. It is the least well protected as it has no cover for the end you insert in the PC/notebook. This one is called a Mobile Disc.
You could put it on a keyring but the plastic hole looks quite fragile it comes with a 15cm length of chain in a fixed circle, it would not go round my wrist so not really sure of it's purpose. Again I would stress a lanyard and round the neck and perhaps some protection for the exposed end. Available in 1GB, 2GB and 4GB sizes.
http://www.twinmos.com.tw/flash/flash_p_usb20_md_b1.htm

USB Cross Wooden Memory Strap 2GB
Perhaps the most unusual is this offering sold by Brando. It comes in the shape of a crucifix and therefore would certainly not look out of place round your neck. The casing is wood and there is an eye in an eye and they even provide a 70cm length of silk type fabric complete with links for the purpose.
As far as I know this is only available in the one size and the price is $30 US plus a flat $3 US whatever your order size.
http://usb.brando.com.hk/prod_detail.php?prod_id=00383
I have not given prices for the other items as they will vary wildly and as stated this sort of memory only seems to come down in price.