Optoma's HD91 Projector: Farewell to That Hot Lamp.

Published Mar 18, 2014 Author
bidmead
Review controls
The Achilles heel of home projectors in the past has always been the lamp - short-lived, expensive to replace and generating heat that typically needs a noisy fan to disperse. For the past five years or so a solution has been waiting in the wings. LED as an illumination source is much cooler and longer-lasting. But for any other than small unambitious projectors it's been too dim. Or far too expensive. Until now.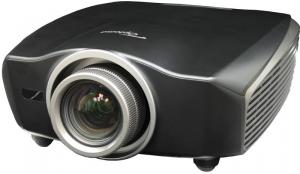 click image to enlarge
Like the previous two projectors I've reviewed here, the Optoma HD91 could be described as an entry-level offering. But compared to the Epson EH-TW490 and the Viewsonic PJD7820HD it's by no means cheap. This is because it's an entry into a much higher class of projector - the semi-pro home theatre category, where prices can easily run into 5 figures. The Optoma HD91 comes in at a hair under £3,000.
You only have to lift it out of the shipping packaging to realise this is a serious piece of kit. It weighs in at 7kg - not particularly heavy for a machine of its class, but a battleship against the lightweight 2kg Viewsonic. It's big by comparison, too. With a width/depth/height of 345 x 443 x 161.5mm this is no bookshelf projector.
Another immediately striking difference from the two other projectors I've reviewed here previously is the size of the lens. Much of the value of a large lens on a camera is that it can suck in a lot of light. With a projector, large lenses pay off in two ways: you can concentrate the image in the centre of the lens array where the optics is most accurate, or you can use the wider scope of the lens to move the projected image optically without having physically to move the projector.
The HD91's lens shift uses a pair of thumb wheels: one each for vertical and horizontal shift. They're rather oddly positioned on the underside of the machine, where you have to feel for them with your fingers. It's a considerable inconvenience, but not something you're going to have to do often with an installation-class projector like this one.
Zoom and focus are manual, but linked, so that once you've set up the focus with the large outer wheel around the lens, this shouldn't need adjusting when you change the zoom with the inner wheel. The optics are excellent, doing full justice to the crisp DLP imaging engine. My only criticism of the lens is that it seems rather narrow, with a 100" diagonal screen being the largest I could project across the 11ft length of my viewing room. Optoma does manufacture a version of the HD91 with a wider lens, but I'm told this won't be sold in the UK.
There are no controls on the machine itself - all the operations apart from power on/off, zoom and focus are carried out from the remote (so don't lose it down the sofa).
On paper the brightness of the HD91 seems a little skimpy at mere 1000 lumens, but these white light brightness figures can - as I've mentioned in my earlier reviews - be misleading. The machine uses only a single digital light processor (DLP) chip, but instead of achieving colour by pumping white light through a rotating colour wheel like conventional DLP projectors, the HD91's illumination comes from three banks of LEDs which flash red, green and blue light, changing colours very much faster (around 40x) than any colour wheel could do.
The depth of colour achievable with this technology closely approaches that of studio quality 3DLP projectors, and it turns out that depth of colour has a strong influence on the human eye's perception of brightness (this is called the Helmholtz-Kohlrausch effect, if you want to impress your friends).
So in practical terms the Optoma HD91 appears much brighter than the white light spec would suggest. This makes watching TV quality pictures (where the lighting is generally flatter and brighter than cinema) during the daytime entirely feasible. For movie watching, though, you will certainly want to draw the blinds.
As well as the legacy component and composite (avoid if you can) video inputs, there are two HDMI 1.4 ports that are each capable of supporting automatic switching into 3D when connected to an appropriate device like a 3D Blu-ray player or (in my case) a PS3. Other rear connections include a pair of 12V triggers for functions like rolling down an automatic screen, and a 3-Pin VESA socket for the optional extra 3D RF emitter you'll need if you want to watch 3D.
The remote control is usefully back lit, although you might find the blue light coming through the buttons rather glaring in a darkened viewing room. I would have been more comfortable with a larger main menu button, but you won't need this much as the most often used sub-menu features (like input selection, aspect ratio and colour mode) have been devolved to other buttons.
The default picture quality is first class, with preset options for Cinema, Games, Reference and so forth, but if you need to tweak parameters like contrast, brightness, and sharpness the full range of options is at your fingertips. The advanced section of the menu takes you deeper into the black art of calibration with adjustments like colour settings, noise reduction and gamma.
Here's where you'll also find the Pure Engine™, a motion picture processing refinement developed by Optoma in conjunction with Pixelworks for tuning high definition detail, motion smoothing and a bunch of other professional parameters.
I was too busy lapping up movies to mess around much at these depths, but it's good to know that when you need it the projector has built-in motion smoothing, edge enhancement and sophisticated colour control that can brighten certain unsaturated picture elements without over-soaking the whole frame.
And then, of course, there's 3D. I was never a fan, but a strange thing happens when you bring it into your own home, have it completely under your control, and can stop at any time for a cup of tea. Under these circumstances, it's not only surprisingly tolerable – I actually found myself drawn to it.
DLP projectors achieve 3D using a process delightfully called SmoothPicture wobulation, which displays the left and right images in very rapid succession. This alternating display is synced with the pairs of LED viewing glasses that successively black out the left and right lenses. The source pictures and the lenses need to be kept in step, and the system used with the HD91 is a radio-frequency signal sent from an optional extra RF transmitter plugged into that small 3-pin socket at the rear of the projector I mentioned earlier.
The 3D quality achieved like this was so good that I rapidly worked my way though all my 3D Blu-rays and started fishing around for other 3D sources on the Internet. You can feed the HD91 side-by-side 3D once you've switched the projector to the appropriate 3D mode. Compared with Blu-ray you lose horizontal resolution like this, but with a decent source you're very unlikely to notice the difference.
And now the big confession. With my side-by-side resources exhausted, and still greedy for yet more 3D, I turned to the anathema I've been ranting against for the past few years - 2D to 3D conversion. As with many 3D TVs, the HD91 provides this, er, feature as the sort of tick-box option marketeers think they need to sell the product, although it's something self-respecting customers will want to leave unexplored.
I explored it. And in fact the HD91's implementation turns out to be rather remarkable. I'd incline to call it 2½D, but it definitely gives a convincing impression of depth without any of the improbable Escher-like space-bending I'd come to expect from previous versions of the technology. "Son of King Kong" (1933) on the BBC iPlayer leapt into life in black and white bas relief, and "The Great Barrier Reef" from the same source almost fooled me into thinking I was swimming among genuine 3D corals.
You'll have gathered I liked this projector a lot. Yes, the price-tag makes it by no means an impulse buy. But when you factor in the saving on an illumination system that will last the life of the machine (as against the typical £200 a conventional lamp may cost you every 600 or so viewing hours), the 5 year guarantee on colour quality, and price it against others in its class, the HD91 starts to look like a bargain.
Or you could always pick up a 3D TV set with a slightly smaller 90 inch screen. I saw one from Sharp in Costco today, a snip at 9599.98 inc VAT.