A Yamaha Speaker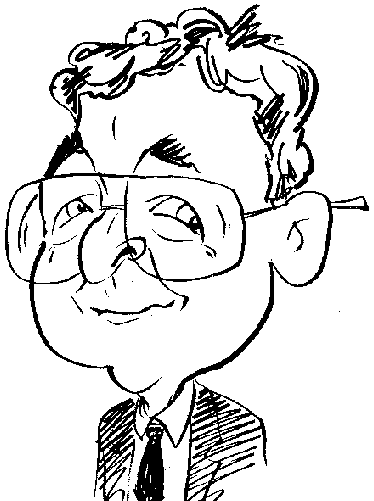 Review controls
For those looking for a portable speaker for their work area, Yamaha has developed a unit that also provides iPod docking facilities.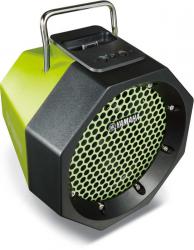 click image to enlarge
If you are going for a distinctive look for your products, why not go all the way and design a unit that could easily be mistaken for something totally different. When it comes to speakers, especially those that might be considered portable, this might cause a difficulty as the market is brimming with speaker units in an assortment array of shapes and colours. Cylinders, pyramids and plinths are just some of the shapes that I have seen recently with the colours of the rainbow being well represented. While Yamaha might not have gone overboard with the choice of colours (black, dark blue, white and green) for its PDX-11 model, some thought has gone into making the unit have an out-of-the-ordinary appearance.
The Yamaha PDX-11, combining speaker, Apple docking facility and portability in a single unit, has gone for an octagonal appearance. At first glance you might think it was an escapee from a theatre's stage lighting as it looks like, especially from the side view, one of the units used to light up the cast during their performance. However closer examination reveals some obvious differences with especially reference to the dark blue metal grill at the front and the control/docking area on the top of the unit.
Decked out in black and dark blue with a silver carry handle, the review sample of the PDX-11 has dimensions of 211 x 237 x 237 (W x H x D). A black collar around the front of the unit is decorated with a series of silver studs. Clearly visible through the metal grill are a 4-inch cone woofer and a 3.5cm tweeter. Extending backwards from the collar is a platform holding the docking station for various Apple devices plus power and volume adjustment controls along with status LEDs. At the thinner end of this speaker/dock are connections for mains power and AUX IN plus a battery compartment that holds 6 x AA batteries (not supplied) for when you take this 1.5kg unit out for a walk.
Designed specially for use with the iPod/iPhone family, the PDX-11 will play music content stored on these devices plus recharge the unit. However this latter facility sensibly only applies when mains power is being used. Mounting your Apple device on the docking station immediately turns it on although, in the case of certain devices, you might still need to swipe its screen to unlock it.
In the past I have encountered a number of fairly recent products, certified to work with the Apple family, that could charge but not play the content on my iPod Classic. This was not the case with the Yamaha PDX-11. It would charge and play music from my iPod Classic without breaking sweat. However there were problems when using the supplied mini remote control unit. I could use the remote to adjust the volume level but little else with my iPod Classic. By switching to my more recent iPod touch, I was able to get better functionality from the remote control unit as I gained access to the iPod touch's menu and skipping backwards/forwards through tracks and folders.
As mentioned earlier there is an AUX IN socket at the rear of the unit. With the appropriate audio lead, you can attach any other device that does not support the Apple docking feature. You will need to provide the audio lead with 3.5mm jack plugs. While I was able to detect a slight difference in the volume output level using the dock and AUX IN feature, in favour of the dock, it was far less than that I have encountered with other similar speaker/docking units. Also by attaching devices to the dock and AUX IN, you can play content simultaneously from each one. I am not sure why you would want to do this, apart from confusing listeners, but the option is there if you want it.
Audio quality, from either type of device, delivered by the Yamaha PDX-11 is good with a very listenable round, full-bodied sound. There is good bass plus clear vocals and treble. The design of this device is more suited to work environments, such as a garage or work shed where it will not look out of place, rather than your living room. With its weight of 1.5kb, the portability aspect of the device is more likely to come into play when you take the unit out on a picnic or barbecue. It is not the type of device you will want with you when out for your morning run or journey to and from work. Expect to pay in the region of £80 for the Yamaha PDX-11.
http://uk.yamaha.com/en/products/audio-visual/desktop-audio/pdx-11_w/?mode=model