Time for a House Party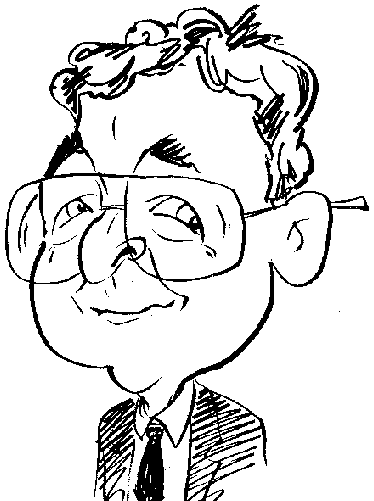 Review controls
With its passion for all things music and strong support for the Apple family of devices, it is not surprising that Gear4 has developed offering that combine these two elements in a single product such as the HouseParty Rise.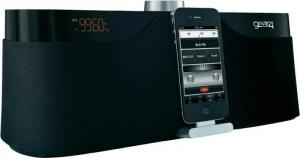 click image to enlarge
This Gear4 product is an app-enhanced alarm clock radio designed specially for use with the iPod and iPhone. It also has Bluetooth wireless connectivity that expands its range of linked devices. The HouseParty Rise has a stylish modern look. Its overall shape has the appearance of an elongated squashed circle. The unit is predominately black in colour apart from the silver coloured front mounted docking station for an iPod/iPhone device and a large, circular multi-function knob of the same colour rising from the top of the unit.
The top section of the HouseParty features a shiny, translucent black plastic look – I would say an attractive look if it were not for the numerous finger smears that quickly begin to decorate this area. The rest of the unit is covered by a cloth material wrap-a-round jacket that does have the advantage of being finger smear resistant. One reason why the top of the HouseParty is like a magnet to finger smears, is that it holds all the physical controls for this device. Arranged around the left outer edge are the controls for Bluetooth, Dim, Mode and Alarm while the right outer edge houses the Power, Skip Backwards, Play/Pause and Skip Forwards controls. The centrally positioned silver knob combines snooze, set and volume adjustment features.
Mounted on the front of the HouseParty is a standard docking station. This is in a permanently protruding state. While the front of the Gear4 packaging box states that this product is for the iPod, iPhone and iPad, you do need to be aware that some of the earlier iPod Classics will not work with the current implementation of the docking device. While you may find that earlier iPod Classics will recharge, any music stored on them will not be accessed by the HouseParty. This problem is not specific to Gear4 and does occur with other manufacturers products.
Tucked away at the rear of the HouseParty are sockets for charging a device via a standard USB port, mains power, AUX In and a miniUSB port for firmware updates. There is also a wire aerial. Positioned on the bottom of the HouseParty is a covered compartment for the supplied button style battery that provides back-up power for the unit's clock in the event of a power cut. Unfortunately with the battery in place, the cover would not stay in place. I was reduced to selotaping over it so that the battery was held in place.
As mentioned the HouseParty has a strong affinity with Apple devices. Gear4 has created a SmartLink Wireless app which you can download to an iPod touch, iPhone or iPad. This app will allow you to stream music wirelessly over Bluetooth, auto-tune and save your favourite FM stations wirelessly plus auto-sync time and alarm settings. Those with devices that do not belong to the Apple family can also pair using Bluetooth with the HouseParty but without the full range of functionality on offer by this product.
When opting for FM radio content, you can manually scan in either direction or use the automatic scan feature to do it for you. Up to five pre-sets can be saved for easy selection later.
An alarm can be set for a specific time with a choice of day, week day, weekend or all week with a user-selected volume level. You can choose to be awoken by music from your Apple device, FM radio station or a buzzer. If required the alarm will repeat itself after a ten minute interval. Up to two alarms can be set using a 12/24 hour clock.
To get the full functionality and justify the cost of this product you really need to own an iPod touch (3rd and 4th generation), iPhone 4/4S, iPhone 3GS, iPad2 or iPad with IOS 5.0 and later. The HouseParty has a £69.99 price ticket.