Braun Water Flex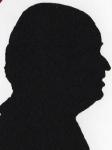 The Braun WF2S Blue WaterFlex is both a wet and dry razor, it is equally useable in the bath, shower or at a basin using foam, gel or just soap. However it can also give a dry shave just as easily. So the above are the claims does my extensive testing agree?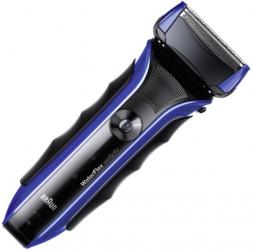 click image to enlarge
This wet/dry shaver measures 15.5x3.5x4cm and weights 192grams. The shaver head can move around 30degrees forward to suit all shaving positions.
My unit was an aquamarine blue and black which may be a little garish for some after a heavy night. The unit is rather like an angry wasp in sound but it gets the job done efficiently so if you head is spinning the pain of wasp noise soon goes.
The aquamarine part is both sides which are rounded onto the back and front (black) and while the front and back are plastic the bit your hand holds is rubber and very grippy rubber at that so even slippy soap covered hands keep a good hold.
While I do enjoy a wet shave there are times when it must be dry, maybe at the office when you need a quick top up for those with heavy beards or when the long day goes into a long evening.
I liked the angle achievable with the 4.5cm wide three swivel heads so even that difficult to get close area under the nose can be adequately serviced. The foils are ergonomically designed and have hexagonal hole to take more of the beard and allow closer connection to the skin.
There is one button the face to turn it on or off and one button on the back to lift the trim arm by 2.6cm to raise it above the shaving head. This needs to be used with the unit turned through 180degrees.
It has two pins sunk in the base that fit the charging lead provided. When in use there is an LED on the face that flashes green. When very low in power it flashes red but you should still be able to finish your shave.
A full recharge will take one hour and this gives 45 minutes shaving time.
To clean press the button on the side of the unit that allows you to lift the foil, the 48 page User Guide explains that you should not need to fully remove the foil.
The main points are that this is both a wet and dry shaver and that the surface you hold is extremely anti slip for safe and comfortable shaving.
The Braun WaterFlex is available from the link below for £80 with free delivery. As stated mine was Aquamarine and Black, it is also available in White/Black, Red/Black and also all Black.
http://www.amazon.co.uk/gp/product/B00L7S9M4Y?ie=UTF8&tag=gadge0a-21&linkCode=as2&camp=1634