Samsung WB150F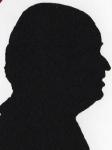 Review controls
Samsung have long produced a range of printers, notebooks and other electrical products including digital cameras. In the last few years they decided to use Micro SD cards for storage; here I am pleased to say it's just SD here.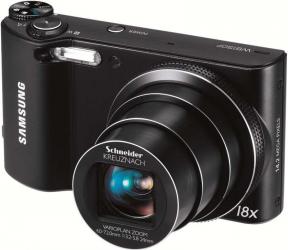 click image to enlarge
The Samsung WB150F measures 10.5x6x2cm and weights 204grams. It can take 14MP images, has a 24mm wide angle lens and is capable of 18x optical zoom.
My unit was metallic red the right side has the wrist strap anchor point and a door behind which is the AV out socket. The left side is clear, the base has tripod anchor point and a door behind which is the units solid battery and any SD card you may use.
The face has the lens and the small bar flash which is always a minimum of 4.5cm behind the lens which can expand up to 4cm from the body. The top has inbuilt microphone, a small power button, the silvered shutter release with wide angle / zoom control around its outside and finally an eight position wheel. This leaves the back which is dominated by the 6x4.5cm TFT display, to its right at the top is the quick movie button and thumb anchor point, further down are two rows of two well marked buttons split by the ubiquitous five position joystick.
It has nine different storage sizes for still images 14MP 4320x3240, 12MP 4320x2880, 10MP W 4320x2432, 10MP 3648x2736, 8MP (1:1) 2832x2832, 5MP 2592x1944, 3MP 1984x1488, 2MP W 1920x1080 and 1MP 1024x768.
In movie mode there are three resolutions 1280x720, 640x480 and 320x240 each can be stored in 30FPS and 15FPS. The stated maximum recording time for a single clip is 20minutes and should you want it there is a voice recording mode.
As always I take stills at all resolutions but as most of my printing is done on an A4 unit even parts of an image at a higher resolution print perfectly adequately when captured at lower than the 14MP maximum and here it was at 10MP.
Flash when required worked well as did my brief visits to some of the units scene modes. The ones on offer here when you turn the wheel to SCN modes are Beauty Shot, Night, Landscape, Text, Sunset, Dawn, Backlight and Beach and Snow. Just because some other units have a larger number of scene options does not mean one is better than another. This has excellent Program modes as well as Aperture Priority, Shutter Priority and Manual.
However as always with a new camera the best place to get up and running is Auto and here that is called Smart Auto and I always start there with my first set of images before branching out to use some of the other features.
A lot of recent cameras have the one button mode to change to capturing video. This works well when you need to capture a situation in an instant.
From my point of view I found the red metal colour a little garish but other colours are available. I do hope their experiment with micro SD cards is over as not only are standard SD easier to insert and remove they are less likely to go AWOL.
I was perfectly happy with almost all the images I took both in Auto and Manual modes and also the scenes I tested. This is a camera suitable for those who want something better than point and shoot but are not ready for a larger or DSLR unit.
The Samsung WB150F is available from the first link below for £151.84 with free delivery.
http://www.amazon.co.uk/gp/product/B006WM6LJ4?ie=UTF8&tag=gadge0a-21&linkCode=as2&camp=1634
http://www.samsung.com/uk/consumer/camera-camcorder/smart-cameras/compact/EC-WB150FBPBGB-spec