Personal Lights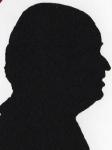 The first backed by the RAC gives a variety of ways for people to know you are there as a motorist, cyclist or pedestrian. The second from the USB kings in Hong Kong Brando that can sit on your desk or childs bed table to give that beam of light.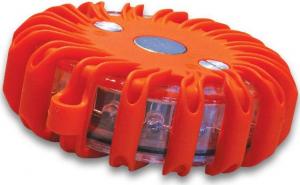 click image to enlarge
RAC Personal Hazard Light
While the front illustrates it sitting on the ground – presumably guarding a broken down car – I see other uses dependant on which of its settings you use. The point of this is that they say 'it can be seen up to 1km at night'.
It is circular 10.5cm across and 4cm thick, each of the sixteen breaks in the rubber surround can show a bright light. These can be static or rotate according to the setting that you choose to suit the situation of its use.
There is an operating instruction booklet that explains the various settings achievable, the only slight problem I can see is that you have to move sequentially through the options to get to the one suitable for your situation.
They are Rotate, Quad Flash, Single Blink, Alternate Blinks, SOS (Morse), Steady (High), Steady (Low), 2 LED Flashlight, 4 LED Flashlight. The instructions state how long the battery will last in use, this varies from 8 hours for Steady (High) to 24 Hours SOS (Morse) and 100 Hours Single Blink. I found the Rotate very noticeable and that is stated to last 15 hours.
A long push (two seconds) of the rubber on/off will turn it off, a single press turns it on again at whatever sequence you were last using.
I think in various modes it would be useful for not only motorists but also cyclists and even for pedestrian use.
The puck shape means it will sit easily in a bag or coat pocket for the non motorist. The rubber coating will protect it if dropped and in normal use I would call it indestructible, however I did not test running a large lorry over it, but if you have broken down better a strategically placed unit could save you and or your car a small sacrifice.
The RAC Personal Hazard Light is available from the link below for £29.99 the link shows orange or yellow mine was blue (not shown) but the orange or yellow ones look the same.
http://www.racshop.co.uk/travel-touring/product/rac-personal-hazard-light-breakdown-warning-lantern.html
Lamp Tao Money Flower
This lamp is ideal for a child's desk and as it is powered by USB no mains power to the six LED lights it contains.
It is 22x13x9cm when the flower is near vertical on its stem, it head can be tilted back if more light is required. The six LED lights are bright but inside a frosted shade and no damage to the eyes should occur even if looked for a prolonged period.
There is just one control a grown a two position on/off button on the green foam in the white flower pot base. The head as stated is white frosted plastic on the back, the face (less light) is orange with pink petals around the outside of it. First press is six LED and the second press is sixteen LED press again to switch the lamp off.
It does have an internal battery so once charged it can run for 6 to 8 hours so ideal for a young child's nightlight and of course the USB lead can then be removed and all you have is a flowerpot with a smiling face so even if it is knocked over no damage to either the child or the light should occur. Other colours are available.
It is available from the link below for $13 plus $3 P&P whatever the size of your order.