Polaroid 20inch Digital TV TLU-02041B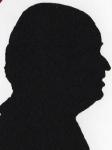 Review controls
This is far more than just a digital TV as it has a range of connectors enabling HD and perhaps at the size is ideal for connecting via VGA to a PC or notebook, I certainly tried them all.
Buy Now
Polaroid 20"Digital TV
TLU-024041B
£229.99 from Dixons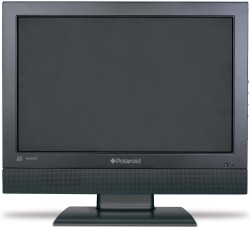 I find it strange when a 32inch or greater TV has VGA connection as I doubt many would use it as a monitor apart from an emergency. But a 20inch I think is more than likely to be the reverse unless it is utilized in the bedroom.
It is 49x38x6.5cm with a stand of 28x15cm that raises it 4cm above the desk or stand. The stand allows a few centimetres of back tilt but virtually no forward movement, not having the latter is a problem if you are viewing from below.
As with most recent digital TVs it is widescreen and the actual screen size is 43x27.5cm giving the notional 20inch diagonal measurement.
First connect your aerial and then plug in and switch on press the remote to turn on the unit and it should autotune. Like the recently reviewed 32inch Polaroid Definia it tunes both analogue and digital in one go. It found in around a minute 62TV and 26Radio stations on the digital band and after a press of a button on the remote the normal five analogue channels were tuned correctly.
Just above the stand fixing on the rear of the unit is the inputs panel that supports the following. Composite, S-Video, SCART, Component, VGA (for PC), PC Audio input, HDMI, Audio outputs L & R, Digital output and headphones. This creates a very busy section and it could easily become cluttered.
There are seven buttons on the right side of unit and two small LED's on the front however the unit can be totally controlled from the 41key remote control. To avoid leaving the unit in standby there is an on/off switch beside the power input lead on the units rear.
As a TV for a small room or near a bed it is fine for a larger room to me anyway it seems somewhat small. However with SCART and HDMI it does allow you to connect a range of peripherals.
I do however find it the correct size to use as a monitor and I put the VGA connector to good use connecting (at different times) a notebook and a PC. My own 20 inch panel is capable of 1600x1200 (it's not new so is not widescreen) even larger 22inch offerings do not seem capable of showing more than 1680x1050 and that - with my basic maths seems less - this displays 1680x1050 at 60Hz. However by scrolling it will show greater, up to 2048x1536 on my PC. However you never see more than 1680x1050 on the screen.
Sound quality when used as a TV was fine as indeed it was when used as a panel connecting the output from the PC's sound card or chip.
It comes with a 48 page manual/user guide and I think others could learn from Polaroid as the manual was single language and appears to answer all the questions you may have. Each page has simple point statements mostly shown in conjunction with a illustration or screen grab that shows how to connect or change the relevant setting.
With a contrast ratio of 1000:1 this unit has plenty to offer. Doing my Internet searches found the Polaroid 20inch Digital TV TLU-02041B at a best price of £229.99 from the first link below.
http://www.dixons.co.uk/product.php?sku=421055
http://www.polaroid.com/global/detail.jsp?PRODUCT%3C%3Eprd_id=845524441767178&FOLDER%3C%3Efolder_id=2534374302033163&bmUID=1198840708179&bmLocale=en_GB