Polaroid 10.4inch Digital Photo Frame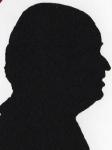 Review controls
A number of companies have produced photo frames, most however are no bigger than seven inches, so this at 50% bigger could well be worth a look, it also can play music.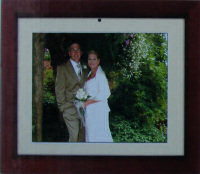 It looks like a red wooden frame with another white spacer frame inside. The total external dimensions are 31x25cm. It has 3.5cm of depth, if you support it on a desk a snap in black plastic fitting fits into the black back of the unit and it leans slightly back in either portrait or landscape mode just like a traditional photo frame.
The internal white spacer frame is 2.2cm wide top and bottom and 2.5cm wide at the sides. The actual photo screen is 21x15.5cm giving the notional diagonal 10.4inch size.
The photo frame also has four indentations in the back allowing it to be hung on a wall should you wish. Wherever you place it then it will need to be within around 3.2metres of a power socket as that is the total lead length supplied both before and after the small power brick.
The rear has three card slots, the current types supported are SD MMC MS XD SM CF and Micro Drive, this I think covers most types, some however may require an adapter. There is also an AV out socket and the DC input. The right side has five grey push buttons and a small LED that shines green when power is attached.
There is also a small 17 button remote control and after several weeks of use I am still finding extra things that it does. There is an A5 sized twenty page 'Operation Manual' while I have seen worse (one for a recently reviewed clock sticks in the mind) the two pages in English just about tell you the main functions of the buttons. I suppose I should have been warned of this by the 'Press & Hold Function: When you press and hold a button for 3 or more seconds it activates an additional function' No indication is given on what this function maybe, of course if you are the sort that enjoys puzzles this product will be addicted. Only this morning I found there is an equalizer display for when you are playing music files, not sure how I got to that screen but the display looked very good.
Basically give it a memory card and switch on, you first see a picture of a yellow flower with a bee on it a few seconds later a screen show of all the images on your card starts. Should you wish to have music while the images play then first you place music files (MP3 certainly work) in the same folder as the images and start the music via the music button on the remote, next press the button BELOW the word slideshow on the remote and wait a few seconds, if like me your language skills are not great the likelihood that the word or words that appear on the screen will not mean a lot as they could be in French, German, Italian, Spanish or maybe English. The only one I remember that I recognise was pause. The manual of course gives no information as to how you get English messages.
As far as the images go they look great on the screen and if you are preparing a special display (holiday photos etc) you can rotate them in 90degree increments and amazingly they stay rotated until you return them to another position even after switching off and even removing the card etc.
This would be a contender for a top award if maybe half of what it does is described in the manual. Images are great as is the sound quality through the speakers in the rear of the frame. I must admit to liking puzzles however they are not great when you are trying to review a product. The example of finding the music equalizer by accident after several weeks, who knows what else I have yet to find.
Doing my Internet searches found the Polaroid 10.4 inch Digital Photo Frame at a best price of £129.99 from Argos.
http://www.argos.co.uk/static/Product/partNumber/5701359/Trail/searchtext>POLOROID.htm#tab3
The solution to seeing English messages (if yours does not automatically), is to remove any card, switch off and then switch on again, now when you press menu the spanner option will not be greyed out and then select English for the on-screen messages. I am told English should have been set as default but as mine was not yours may not be either.
http://www.polaroid.com/global/detail.jsp?prd_id=845524441766734&FOLDER%3C%3Efolder_id=282574488338773