Expanding your MP3 Player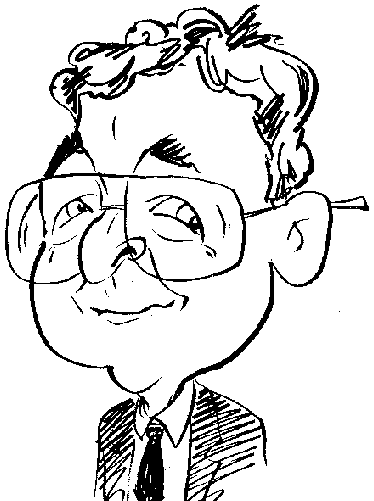 Review controls
Rather than headphones, you can use your FM radio to listen to your MP3 tracks.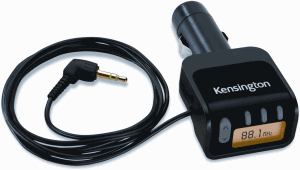 The first time I came across a FM Transmitter device it was legal to buy but illegal to use. This strange state of affairs was brought about by legal restrictions on the use of FM transmission bandwidths, a situation that dated back to the Second World War, within the UK. Fortunately, following the lead set by some other countries and representation made to the government, these restrictions, which applied to low power FM transmitters, have now been removed.
While this made little difference to manufacturers and retailers, it does mean that consumers can use such devices without any fear of possible prosecution for clogging up the airwaves. However there is still one restriction governing the use of FM transmitters that I was unaware of until I was in the process of checking out the Universal FM Transmitter from Kensington. Due to EU regulations regarding FM transmitters and their performance specifications, manufacturers have to build in technology whereby the FM transmission is automatically turned off if the signal (general containing music) is turned off or paused for one minute. This is an EU rather than UK-specific regulation and requires no action on the part of the consumer other than to wonder why the music has stopped.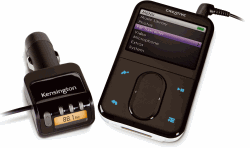 The Universal FM Transmitter is totally agnostic with regards to its allegiance to the various types of MP3 players that are generally available. As long as the MP3 player has the standard socket to take a 3.5mm jack plug, it should be able to link to the Universal FM Transmitter without any problem. Unlike other FM transmitter devices that I have seen, this Kensington model consists of a one-piece unit that combines the actual transmitter with a standard cigarette lighter plug found in cars. This does mean that Kensington regard this product as being suitable for in-car use only which does reduce its functionality somewhat.
Setting up the Universal FM Transmitter involves plugging it into your car cigarette lighter socket and linking the permanently attached lead to your MP3's audio output socket. This lead is approximately 116cm in length which should be sufficient when it comes to positioning the MP3 player in a secure location. At this point you will need to tune your car radio to a frequency that is not broadcasting a signal. You can then tune the FM Transmitter to the same frequency by using the up and down buttons on the device as you adjust the radio frequency on the unit's LCD display.
In this manner you are meant to be able to store up to three preset frequencies that can be access by pressing the relevant button. However whenever I attempted this task, the device would immediately loose the signal and I would need to retune it. Other than this the Universal FM Transmitter worked fine. It is currently available for £17.10 from Amazon :
http://www.amazon.co.uk/gp/product/B000I0RORO