Pure Highway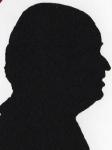 Review controls
Using Pure Highway turns your car stereo into a DAB radio, until now there have been very few DAB car radios and this unit from Pure makes it available without spending a fortune.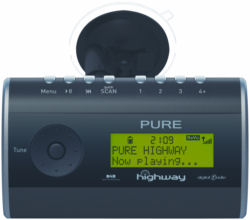 In the box is a lead to go to your cigar lighter to provide the power. A rather flimsy aerial to attach to the inside of the windscreen, a bracket (much like those for Sat Nav systems) to fit the unit into, an optional line out lead and of course the DAB radio module.
It is 12x7x2.5cm. When you first apply power it tunes so you need to have connected the aerial first. It found 41 stations for me - rather less than most indoor units - but if I had tuned it in a desolate area it may well have found more but my drive has house all around.
After the tune it starts searching the FM band and in my case decided I should tune my AM/FM radio to 91.7, this done I could hear the output through my normal speakers and driving locally all seemed well. This uses the technology only recently made legal in the UK.
Looking at the unit it has four sockets on the left side. The aerial input, a 3.5mm line out, a 3.5mm line in (useful for an MP3 player) and a mini USB socket that goes to the cigar lighter socket.
The face has a circular notched tuning knob with a button in the centre for selection. To the right of this is a 7x1.5cm three line black on green display. The top edge has four buttons and four presets that come tuned to Virgin Radio, Planet Rock, Talk Sport and theJazz but of course you have a total of twenty presets and only the first four are immediately available others need extra clicks.
However it is possible to use it even if your car has no radio as you could plug a set of ear buds into the line out but do read the manual first to find out how to decrease the volume. Should you wish to use it away from a car then the rear of the unit can accommodate two 'AA' batteries but you could put it through external speakers and therefore have a control over volume. However you could also attach any mini USB to USB lead and take power from a PC or even one of those becoming popular 13amp plugs that have a standard USB socket to attach the lead to, however you still would need to overcome the flimsy aerial but no doubt someone will make one to go to the 2.5mm socket on the unit.
By default the three line display has a clock, signal strength ReVu on the top line and some extra icons only shown when in battery mode. The station you are tuned to and the amount you are behind (ReVu) on the second line and the date on the third line. However a click on the menu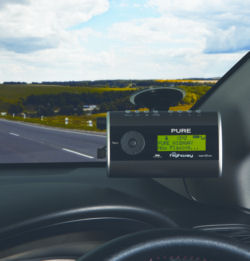 button lets you choose the third line options by turning the tuning knob till you get to Info Display, the options are Date, Scrolling Text, Multiplex Info, Multiplex Name, Signal Quality, Signal Strength or Programme Type.
ReVu is a technology only available on a few DAB radios, press the third of four buttons on the top and you start going back in ten second intervals the amount of time you can go back depends on the length of time you have been listening and the stations broadcast Mbps, but it should be plenty of time for a comfort break or to fill up with fuel without missing any of what you were listening to.
As you travel around you are more likely to lose DAB signals and there is a 'Fade on Burble' option that you can set on or off. There is a 24 page manual that covers almost everything and as a cheaper way of getting DAB in your car it is worth considering.
Doing my Internet searches found the Pure Highway at a best price of £62.99 from directly from Amazon and so includes delivery.

http://www.amazon.co.uk/gp/offer-listing/B0012GLXMU?condition=new