Belkin TuneFM for iPod

Published Dec 7, 2007 Author
petew
December 2006 saw the legalisation of low-power FM transmitters for personal use in the UK. As so often happens these days outdated law was simply catching up with commercial reality. Already on the market were several FM transmitters explicitly aimed for personal use to beam music from MP3 players into the cars hi-fi system.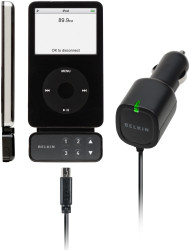 Since the change in law the number of products in this space has blossomed. Here we take a look at a very small transmitter from Belkin called 'TuneFM for iPod'. The package it comes in is completely out of proportion to the product itself. Open the package you find a cardboard mock up of an iPod and right down the bottom the FM transmitter which attaches to the iPod dock connector.
The body of the transmitter is around 60x25x11mm in size. At the top is the iPod dock connector and at the bottom a standard USB socket. A cigar lighter power adaptor lead is provided for use in the car. It can of course equally well be used in doors to beam iPod music to any convenient FM receiver - much more convenient when cooking than having to be attached to headphones, and means you can use an existing stereo rather than buy a new iPod specific docking station.
The only other things in the package are a manual and, well, more rather wasteful packaging.
The TuneFM has an array of 6 buttons on the front labelled 1 - 4 and up.down arrow. The up-down arrows are used to tune the transmitter to a vacant frequency which you first locate on your receiver. The transmitter frequency is displayed on the iPod screen. Once the two are set to the same frequency any audio playing on the iPod is transmitted over the FM transmitter. In effect you've become your very own FM radio station. When used in isolation the four numbered buttons allow you to store four frequencies. This can be particularly useful for those that travel as some frequencies may be used in some areas and available in others.
Control functions are operated by pressing a combination of more than one button. For example pressing '1' and '2' at the same time will allow you to change the transmit volume, 1 and 4 together allow you to switch between stereo and mono - something you're likely to have to do given the default is stereo and unless you have a particularly good receiver will tend to have a lot of background noise.
Note that there are a wide range of FM transmitters to choose from now - this being one of the simplest to use. This one doesn't have the advantage of being able to mount the iPod on your dash-board like many similar products will allow, but is ideal if you want to set your iPod running then shut it in the glove compartment. Price varies for this product with bricks and mortar outlets such as Halfords selling for £39.99 while on-line retailers such as Amazon have it for as little as £12.51