Aiptek 3D Camera/Camcorder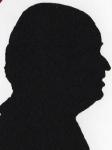 Review controls
Some of the pocket camcorders can also take still images. This unit from Aiptek can take still and movies in 2D and it can also do the same in 3D. It has built in software to allow an interface on the PC, all fine in theory.
Buy Now!
Aiptek 3D Camcorder
£199.99

£139.99


including free delivery
From FireBox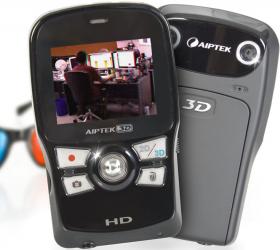 click image to enlarge
The Aiptek 3D HD Camcorder measures 11.5x7x2cm, the middle figure the width reduces to 6cm below the TFT screen which is 5x3.7cm.
Viewing 3D images on the units screen is quite impressive, however you will not see 3D on your computer just a red and green haze on the edges of items in it. The same can be said for movies 2D are okay but 3D is a mess.
The front of the unit has twin lenses 4cm apart and twin microphones 1.5cm below the lens. The right side has on/off button, mini HDMI socket (cable provided) and an SD Card slot. The base has a tripod screw and a push out USB plug. The left side has the slider to release the USB plug. The top of the unit is clear, this leaves the face.
It is dominated by the TFT, below this are four shaped buttons all clearly marked as to their purpose these surround the ubiquitous five position joystick where the centre button is marked as play. The other positions are used to move around the screen.
I started using 2D and still images as there is no flash you need to be sure there is plenty of light as in low light the images are poor. 2D movies are okay in reasonable light but not a lot of good when items are fast moving.
3D gave me more problems. A 3D image looks really impressive on the TFT screen really standing out from the background, once captured it still looks good on the TFT. On a standard computer screen however it is not good. With 3D movies they are taken by both lenses and as stills look like two portrait images ½ size side by side, as stated viewing on a standard computer is unwatchable. As I do not have a 3D TV I cannot say how the videos look on that.
The software install starts automatically the first time you connect via USB to your PC with a light helpfully alternating amber and green. The flash screen for the software soon comes up and it says installing however apart from a small green area moving across the bottom of the flash screen nothing appears to happen for several minutes then finally a counter appears telling you xx% installed after that all seems to proceed quite quickly.
I had a quick start guide and that was all, I assume there should have been a user guide and perhaps a pair of those red/green glasses from a note in the quick start guide that may have made 3D watchable on a TV. As stated there is a mini HDMI to HDMI cable supplied along with a USB extender lead that might be required on some PC's.
The unit when it arrived with me was already well used the quantity of sellotape on the box is testament to that, however the lack of red/cyan 3D glasses, carry bag, hang strap and user guide meant I could not fully test the unit.
I have no doubt that 3D movies will in time become as common as 2D are now and with the correct equipment look good. I have seen several 3D movies demonstated on proper equipment and they do look quite good although the depth perception seems elongated, of course all those demos required special glasses that can cost a lot of money per pair. Viewing images on this small screen showed what we might be getting without glasses in time; I understand there are such systems available in Japan now.
As a 2D unit there are many better around, as a 3D unit it could be a nice idea but only being able to view on the TFT screen means I cannot form a proper opinion.
Currently reduced from £199.99 to £139.99 from the first link below
http://www.firebox.com/product/2782/Aiptek-3D-HD-Camcorder