Samsung Memory Cam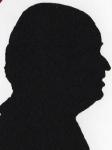 This is a small Camcorder weighing little more than the budget 'Flip' type units. However this unit has all the abilities of a Camcorder but is small and light so easy is easy to slip into a pocket or bag and is easy to use.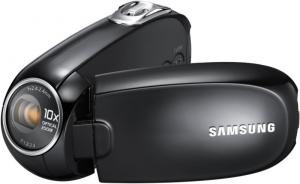 click image to enlarge
When closed The Samsung C20 camcorder measures 10.5x5.5x3.5cm. The left side hinges out by 9.5cm to provide a TFT screen of 6x3.5cm and this can rotate through 270 degrees. The diagonal measurement of the TFT screen is 2.7inches.
The top has the wide angle/telephoto rocker and beside this a button to capture still images, the back has one of two start capturing buttons mounted on a door behind which are an AV socket, mini USB and DC power input. To the right is where any SD card you might use is placed.
The base has a tripod screw. The right side has only a wrist strap anchor point. The front has the 10x optical lens which unusually is sighted on a 30degree upward angle. This leaves the left side which is clear when the TFT is closed.
When open five buttons are revealed and with the menu button the ubiquitous five position joystick and the second capture button. There is also a small internal speaker to allow you to review any audio captured while on the camcorder.
By far the easiest way to view content on the PC is just to remove the SD card and place it in a card socket if you already have a favourite image/video viewing package. If not software is provided with the Camcorder to do this.
As regular readers will know I have a 20 inch 1600x1200 resolution screen and at 1:1 resolution the videos display at a 26x15cmwindow on my screen. The images are captured in MP4 and my samples took 24MB of space per minute of capture.
Unless you are a total novice with Camcorders once you have switched on you just need to know where the capture button is/are and the still capture should you want it and you are ready to take video or stills. The one hurdle is pointing the unit down by 30degrees so you focus on whatever you are trying to capture. Using it is easy.
For still images you can have 1696x960 or 848x480. The former gives a reasonable image that is acceptable to most.
For video the concentration is on clarity and sharpness of image, described as TV Super Fine, TV Fine and TV Normal, Web Fine and Web Normal. The last two use a smaller image size that is also 4:3 as opposed to the 16:9 used with the TV standard images to help save space when sending video.
Apart from the normal items found 'on camera' a range of extra abilities are within the camera to be used before the video leaves to be worked on by the PC. You need to examine the possibilities to see what it can do.
There a one touch button to allow you to upload video to You Tube. It is possible to store around three hours of video on an 8GB card. The internal battery should give you more than 150 minutes of shooting time on a single charge.
A feature that could be worth further investigation is the time lapse feature that takes images at a pre determined internal. Finally for the real novice a single button click enables Smart Auto to give the camera scene control.
Doing my Internet searches found the Samsung C20 Memory Cam at a best price of £140.77 from first link.
http://www.amazon.co.uk/gp/product/B0038M1EJS?ie=UTF8&tag=gadge0a-21&linkCode=as2&camp=1634
http://www.samsung.com/uk/consumer/camera-camcorder/camcorders/standard-definition/SMX-C20BP/XEU/index.idx?pagetype=prd_detail