Samsung MFU Laser M2885FW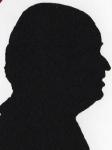 This is a multi function unit. It prints, scans, copies and faxes. It is a mono laser it has two paper trays and as it can be connected by USB, Wi-Fi or Ethernet if you are using it in the home the 'other half' can be placated by putting it out of sight.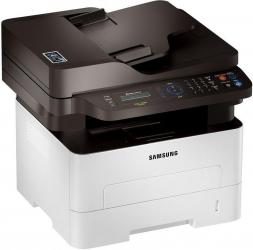 click image to enlarge
It iSamsung M2885FW mono laser printer measuresa 37x40x35cm, the top part is black and the bottom portion is cream. Unusual in that it is slighty wider than deeper and the main paper tray does protrude (included in stated measurement) by around 4cm from the main body. The total weight of the unit is under 11.5kilos.
7cm down from the top of the unit which is the sheet feed and scanner glass is a sloping edge that has 26 clearly laid out buttons and the ubiquitous five position joystick to complete the controls. There is a 6x1.3cm two line display, black on grey so lack of light can sometimes be a problem reading it.
Connections are all in a single column on the right edge of the back.
As this is a laser unit print speeds are always what the manufacturer claims in this case 26PPM very fast so as they are delivered onto a shelf you need to be there or pages can be easily mixed up. Perhaps a more interesting speed is the time for the first page out which is only six seconds from pressing print. With most inkjet printers – however connected – the thinking time by the PC and or unit until printing starts is often nearer 30 seconds.
If your mobile device supports NFC then you can print to this unit simply by touching the corner of it.
Images in monochrome can have a zing that is not shown by colour and this unit can print up to 4800x600dpi which can look stunning.
Scanning is good and this is of course in colour and I found from the PC the document or image was scanned in around 10seconds. There is also OCR software provided.
Copying is also rapid I found that from standby it was 5seconds to the first copy and of course this action is in monochrome.
Installation of the software took six minutes and used 660MB of hard disc space.
A standard replacement toner cartridge is available for £32.52 and should have enough for 1200 pages which is the recommended monthly maximum use for the unit. There is also a larger 3000 page toner available at £57.44.
The unit has an ECO mode which is stated to save 20% of toner and in my tests there was little discernable difference in output for test documents, large areas of black in say a graph did look a little different.
Noise levels of up to around 53dBA are when copying scanning and printing slightly less. Power consumption is around 400watts when printing and down to 1.6watts in power save. The only no power mode is by switching off at the wall socket or pulling the plug. Remember this does have fax capabilities and that is why there is no on/off button.
The Samsung SL-M2885FW is available from the first link below for £218.40 with free delivery.
http://www.amazon.co.uk/gp/product/B00J9KQO34?ie=UTF8&tag=gadge0a-21&linkCode=as2&camp=1634
http://www.samsung.com/uk/consumer/print-solutions/print-solutions/mono-multi-function-products/SL-M2885FW/SEE