Motorola U9 clamshell mobile phone

Published 14 Jul 2008 Author
petew
A small pebble like clamshell, the U9 is available in pink, purple or graphite (black) with a glossy smooth finish and curved edges this phone feels great to hold.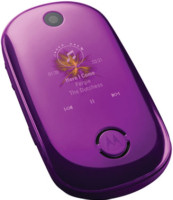 The pink and purple varieties are most definitely aimed squarely at the female market, and in case you're not convinced Motorola provide a Pink or Purple test to help you choose your colour - question two asks whether you'd rather date Prince William or Prince Harry (you can take the quiz here!).
The Motorola U9 is a quad-band phone that comes with a raft of features for those that prefer the clamshell format. Measuring 90 x 48.6 x 16.4mm and weighing a mere 90g including battery the U9 will slip into the smallest of places. Considering the size, battery life is impressive at around 14 days standby and 7 hours talk time. Using the phone for over a week did not require the charger.
As is common with clam-shell phones there are two displays. The main display within the phone is a 2" QVGA screen. A smaller screen shines through the outer case - invisible when inactive. This display is used to show phone and music player status without having to open the shell.
Internal memory is 25M bytes and you can also insert a Micro SD card to give up to 4G additional storage. If you're going to want to use this as a media player or make frequent use of the camera then you are of course going to want additional storage, but with a 4G byte MicroSD card costing as little as £13 this isn't going to be a huge issue.
Included with the phone is a power adaptor, stereo headset and the usual quick-start guide and user guide.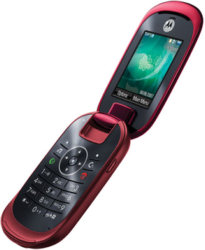 Camera
Of course no phone worth it's salt these days would limit itself to just making calls! So to round out the product you also have a 2M pixel camera also capable of taking 15 frames per second video and of course a music player. There is however no flash.
Picture quality was good with images at 1600x1200 resolution. I was a little disappointed with the video quality but then this isn't an uncommon complaint with camera video that I've seen on other devices. The best video capture resolution is 176x144 pixels with a lower option of 128x96 if you need to save memory.
Media player
I was very impressed with the sound quality using the U9 as a media player. The headset provided gives very good sound quality and basic operation is possible with the shell closed. Interestingly, and slightly confusing for someone that had failed to read the manual (slapped wrists) the front of the shell is touch sensitive. Starting, pausing and track switching are all possible from the screen. Volume is controlled by the conventional up/down controls on the side of the device.
If you don't want to use the headset then playback through the internal speaker is possible. Given the size of the speaker the quality is surprisingly good with decent volume. Quality is a little tinny, which is to be expected,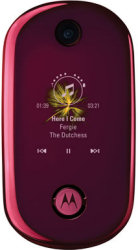 but perfectly usable.
The addition of an FM radio would have been a welcome addition to the U9.
Connectivity
As well as USB connection to your computer the U9 is also equipped with Bluetooth. I used this successfully to transfer images, music and video between the U9 and my Sony Ericsson K800i.
I also successfully paired the U9 with both a Motorola H680 and the Iqua 605 Sun Bluetooth headsets.
The U9 is available for £135 in either pink, purple or graphite (for the less girly out there). It's also available free on £25/month contract on O2 and T-Mobile
The Motorola MOTO PEBL U9 is available in pink for $247.95, purple for $279.95 and and $289.99 in graphite for the less girly out there!
The Motoroloa U9 PEBL is available in pink for €194,74, in purple for €199,98 and in graphite black for €205,46.