Latest Bluetooth Headsets

Published 26 May 2008 Author
petew
A look at three different Bluetooth headsets to keep you safe while driving, or to keep your hands warm in cold weather!
Following on from jzblue's Bluetooth Headset roundup published recently, it's my turn to review three additional headsets, taking the opportunity to look at the Motorola H375, the BlueTrek SenSe and the Motorola H680.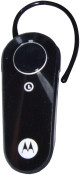 Motorola Universal Bluetooth Headset H375
This is a small reasonably unobtrusive bluetooth headset that was not uncomfortable in use. Measurements are approximately 55x23x12mm (HxWxD) and weight is 14g - making it the heaviest of the sets reviewed here. The earpeice is black with the Motorolo 'M' motif being the only marking.
The ear clip is solid and keeps the earpiece securely in place when in use. You can remove the clip and switch it around to make it suitable for left or right ear.
All the usual features are supported including voice dial, call answer and redial. Device status is displayed via various combinations of a flashing or steady status light that can be either red, purple or blue. For the most part these are not memorable and for those of us that are colour blind almost useless. Generally however this isn't particularly useful unless something goes wrong - which it did not. The most useful ability is to check battery status to show above 80% charged, 10-80% charge or below 10% charge.
Included with the H375 is a mains adaptor and a couple or ear pads allowing you to select the most appropriate to your particular ear and a multi-language manual. Although adequate the print was rather small and I found it easier to read the PDF version from the Motorola web-site.
Power is supplied through a standard USB mini-connector so although you can charge with the included adaptor - you can also charge from your laptop if you're out and about. Stated battery life is around 6 hours talk time on a full charge and 8 days standby.
£23.88 including shipping from Amazon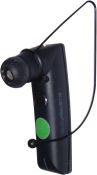 BlueTrek SenSe
This is the physically smallest of the head-sets reviewed here weighing a mere 8g and measuring 50x15x8mm excluding again the earpiece. The finish is a shiny 'piano key' black that looks very good.
The Sense comes with two different size ear hooks that clip onto the earpiece and four different size ear-buds so that you can adjust it to suit your own ears. The documentation says that you can use the BlueTrek SenSe either with or without the ear hook - which may well be useful for those that wear glasses. Although I did try the device without the ear-hook, and it did seem to stay in my ear it didn't feel particularly well retained. Maybe it depends on the shape of your ear!
The clip itself was not as well attached to the headpiece as with the other products in this review and had a habit of slipping off when in a bag or just laying around making it quite easy to loose.
Charging is via a proprietary mains adaptor that is included with the product. A full charge will provide 5 days standby time and 4 hours talk-time, which should be suitable for all but the most talkative user!
Like the Motorola H375, device status is by indicated by colour coded LED, although in this case there is also a backup 'voice alert' that will tell you what's going on - a feature I particularly liked.
The only documentation in the box is a quick-start guide that is limited to how to pair the device with your phone. A complete manual can be downloaded from the companies web-site (the manual is necessary!).
There are only two buttons on the device - one controls power on and device pairing. The other activates the headset to make a call or to answer an incoming call. Unfortunately there is no way to mute a call or to adjust the volume from the headset - this can only be done from your phone.
The BlueTrek SenSe bluetooth headset is available for £40.83 from Amazon, including shipping.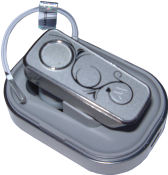 Motorola H680
Traditionally available in standard 'black' finish we're reviewing a repackaging of this bluetooth headset aimed the female audience with the product titled "Communication for Her".
In place of the macho black design this H680 has been given a soft swirling pattern and is accompanied by a silver pouch for storage when not in use - useful if you're in the habit of throwing your headset into your bag when not in use.
A compact design measuring 41x18x12mm and weighing in at 12g means that for anyone with longish hair the headset will stay out of sight (possibly engendering some strange looks as you walk down the street talking to yourself!).
Unlike the other devices in this review, the H680 is charged through a small charging cradle that also provides a hard case to protect the device when not in use. Although a 'different' option it is one more thing to loose and I'd question whether a separate cradle is really necessary.
Ideal for the very talkative among us the H680 offers 8 hours talk time and a standby of around 8 days.
The 200+ page manual covers a multitude of languages providing only 7 pages in English. This does however cover the main functions, although very briefly. As with the H375 Motorola have gone with a three colour red, purple, blue indicator with various combinations of flashing to indicate device status. Once more the encoding is far from intuitive.
Separate up/down volumes buttons are provided which, when tapped together, will mute a call.
£37.94 from Car Phone Warehouse, including shipping
If you prefer the more masculine black version, the standard H680 is available from Amazon for £35.58, again including shipping.
Summary
The following table provides a summary of our experience with each of the three headsets :
| | Motorola H375 | BlueTrek SenSe | Motorola H680 |
| --- | --- | --- | --- |
| | | | |
| Dimensions (mm) | 55x23x12 | 50x15x8 | 41x18x12 |
| Weight | 14g | 9g | 12g |
| Talk time (hours) | 6 | 4 | 8 |
| Standby (days) | 8 | 5 | 8 |
| Comfort* | 3 | 4 | 4 |
| Sound quality* | 4 | 4 | 4 |
| Features* | 4 | 3 | 4 |
| Design* | 3 | 2 | 4 |
| Best points | USB recharge. price | Small, light, unobtrusive | Battery life, cool design |
| Worst points | Colour coding status | Ear clip, no volume control | 'docking' system for charging |
| Price (incl. shipping) | £23.88 | £40.83 | £37.49 |
* Scale 1-5 where 5 is highest.
All of these three headsets are very good quality. The audio performance of each is good and the ability to filter out background noise about the same. Despite being the largest of the group, my personal preference is the Motorola H375. It's also the cheapest. The Bluetrek Sense looks great, but in my view is let down by the lack of volume control resulting in searching around in pockets to find the phone.