Bluetooth Headset Review

Published 14 Dec 2007 Author
jzblue
With so many Bluetooth headsets on the market our guide will help you choose the one for you.
Bluetooth headsets
Does anyone know why the roads are so busy at this time of year? Is it the special Christmas road works or all you lovely consumers ordering presents on-line which eventually have to be delivered out to your door? Sitting in a traffic jam the other day I was counting the number of people using their mobile phones - just to while away a bit of time, you understand - and I was struck by how many clearly don't have a Bluetooth headset. My particular favourite was a lorry turning on a roundabout steering with one hand holding a sandwich and the other cramming his phone against his ear. So in the interests of road safety and last minute Christmas shopping, here is a guide to some of the Bluetooth Headsets around.
As well as testing usability and the various functions they have to offer, we have also devised three fiendish new tests. We have done this mainly because most of the headsets we tested are clearly designed for men and us girls have very specific and important requirements
The tumble dryer test
can you carry on a conversation standing next to a tumble dryer
The handbag test
Is it easy to find in your handbag and how does it cope with rubbing up against a lipstick
The earring test
Can you get the headset on and off in a hurry (provided you have found it in your handbag) and position to avoid hair and earrings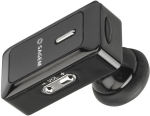 Sagem H4
The Sagem H4 is a sexy little black box that is incredibly lightweight and fits so snugly and surprisingly securely in your ear that you could almost forget it was there. The size does go against it in one important way. When you need to press any of the buttons on the little black box you can occasionally dislodge it from your ear. The sound was pretty good but not outstanding.
It has a useful Favourite Phone Number (FPN) function allows the user to store and call 2 preferred phone numbers directly from the Sagem H4 Bluetooth hands free kit using dedicated FPN button - and if your mobile phone supports voice recognition you can dial these numbers totally handsfree. It only has 5hrs talktime and 100 hrs in standby mode which is less than some other models but it does remind you when it needs charging with a light indicator.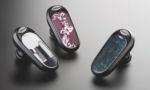 Jabra BT3010
The Jabra BT 3010 is a neat little headset that again sits very well inside your ear. If you have any few problems with it slipping out it also has a little ear hook for added security. The sound quality was variable but generally OK and with 8 hours of talk time and 170 on standby it was certainly a good headset. A major selling point for the BT 3010, as claimed in the press release, is its styling. It comes with a Lariat so you can hang it round your neck and shove it in your ear quickly, and a range of interchangeable covers. My advice is do not use the covers that come with the handset - they are a style-free zone and definitely a case of designers trying to get 'down with the kids'. Your best bet is to go to http://www.jabra.com/coverdesigner and create a slightly less embarrassing one.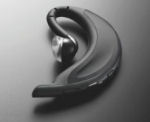 Jabra BT2020
This Jabra is very sleek and replaces the very popular BT250v model with a pioneering behind the ear design that has been created for comfort and for its ergonomic design. It is indeed comfortable once you get it on but if you have earrings on, even little ones, and don't keep your head completely still, the person you are speaking will find it very distracting.
This headset is quite discreet (the LED doesn't flash all the time) and you could leave it on as you move around. The sound is very clear indoors, but outdoors it seems very susceptible to wind.
The Jabra BT2020 has a massive 360 hours standby time which is quite spectacular and a respectable 8 hours of talk time. Perfect if you are out and about all day

Plantronics 665
Plantronics Discovery 665 - £60 on Amazon
Winner of 'Best Mobile Headset' at the Mobile Choice Awards.
I can absolutely see why this headset won an award. It has a lot of very cool and well thought out touches. Take the charger, all gorgeous and glittery. You simply slide the headset in and you get a colourful display of lights whenever a call comes in. The charger doubles as a kind of holster for the headset that clips onto clothing or bags so you can find it easily.
It didn't do that well in the tumble dryer test but the sound quality for the listener is great. If you don't use the ear hook beginning and ending a call is a fiddly - you have to be careful not to dislodge the headset.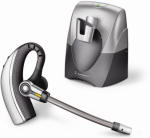 Plantronics CS70N
This was the only DECT headset we were able to review and it was a revelation. It turned a basic landline that chains you to a desk into a mobile. I could wander around the office to check things during a call without any loss in sound quality.
There are 3 sets of buttons that control volume on the headset and the microphone which took me a while to get the hang of. The feature that really was the biggest hit with me and had others completely fascinated was the handset lifter. No matter where I was in the office, if a call came in I could answer it from the headset and a little add on would remotely lift the handset so I could take the call. Genius!! The headset itself was a little cumbersome to put on but very comfortable after that.
I admit I was sceptical about how good a headset/headphones combo was going to be never mind adding Bluetooth to the mix. A case of jack of all trades? Not at all. Plantronics have done it again with a piece of kit that masters all its functions. True the sound quality when you are on the phone could be a bit better and I am not a fan of blue flashing lights as you walk around with the headphones on, but the range is great and the listening sound is great. Now you can clean the house, do the gardening or sit and work while listening to your favourite tunes without worrying about missing that all important call.

Invisio G5
This definitely wins the prize for the sexiest little beast of a headset as well as being the World's smallest - for now. The G5 weighs just 6gm and is only 3cm long. It comes in a fantastic box that it slips into a bit like a piece of precious jewellery. This isn't just to keep it safe but also acts as a charger. Pairing and setup are very straightforward but I'm afraid this little number doesn't deliver great sound. Calls to me had a distinct crackle and, even though the unit does cut out some background sound my voice wasn't totally clear to the listener either. If you don't mind that the G5 has a colossal 20 hours of talk time and 30 days of standby time which must make the competition a little uncomfortable.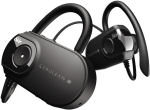 Cerulean F1
In theory this is a great product that by itself will allow you to answer calls and with a special module (not tested) you can link to your iPod. However, unlike the Plantronics Audio 990 this headset hasn't really made it off the drawing board. It was easy to charge and pair with a mobile but the buttons are very small and hard to distinguish, the two funky scarab looking modules that go over your ears are extremely difficult to put on and become uncomfortable very quickly. I can't tell you whether the sound quality was good because, even though my phone was paired and connected I couldn't get the F1 to deliver a call to my ears. There are better headsets on the market and I suspect better headphones aswell.