HP OfficeJet Pro 8610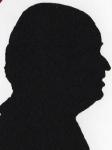 Review controls
An Inkjet multi-function machine – that means it has fax - as well as scan, copy and print. This is part of the OfficeJet range and as such has a more substantial paper input tray than you might find on those units designed for home use.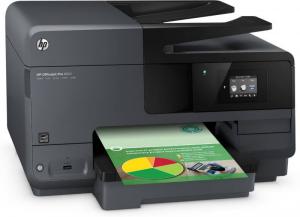 click image to enlarge
The HP Officejet Pro 8610 is also a bit boxier given that it probably does not have to pass the lounge police, however with Wi-Fi there is no reason why it needs to be in view, it could sit behind a sofa or even in a cupboard.
It is 47x44x29cm. The power, phone and USB/Ethernet should you use either of the latter all go into the back left of the unit.
It has an 18x7cmflip up display that is front right it can be flat with the front of the body of the unit or titled up by up to around 40 degrees dependant on where it is situated to suit your viewing angle. The only control elsewhere is the on/off button which is on the front bottom left near the base. Just to the right of this is a USB port useful to scan to or print photos from.
This is aimed at a small office of up to five people and a print use of around a thousand pages a month.
The first useful feature is a paper tray that can hold up to 500 sheets of paper. However I would not suggest just printing blindly as the output is likely to get clogged with a tenth of that waiting to be collected.
Installation is straightforward from the supplied optical media, in all it took around 15 minutes.
The front screen on the unit displays date and time as soon as powered on, below this three areas Copy, Fax and Scan, under this six small icons complete the front end.
Printing of most things will be sent via Ethernet, Wi-Fi or USB from a PC.
To get the time taken to print something manufacturers tests print it multiple times ignoring the first and last so the lag between sending and printing starting is not counted. According to your method of printing this can be up to 30 seconds.
Claimed print speeds used to be one of life's amazing stories like the size of the one that got away. Now however with standardised print jobs manufacturers claims are normally correct. I got 20PPM printing my nonsensical 200 word document that resembles a test page, my more normal 1500 word document spread over four pages prints at 18PPM. Both these are in a very acceptable draft mode. The claim on the Canon website is 19PPM so no problem.
Printing double sided will be slower as the paper needs to be pulled back into the machine to do this.
I printed A4 photos on photo paper is best mode and from sending to receiving takes 165seconds and this is borderless.
Copying can be done on the flatbed or the sheet feed, the latter is useful for larger documents, the former when copying from books and magazines.
Scanning can be initiated from either the machine or the PC both work well with Scan to USB useful when at the machine and you want to scan securely straight to memory stick.
As stated it has fax but as the only business I knew that used fax (my pharmacist) is now going over to electrically transmitted prescriptions…
One claim made that I cannot substantiate or deny is that the cost of printing is 50% less than with a laser, certainly the provided four cartridges were of a larger size than with a lot of other units.
I liked this unit but it is no beauty so unless it can be stored out of sight expect problems from the lounge police if used in the home office.
The HP OfficeJet Pro 8610 is available from the first link below for £153.59 with free delivery.
http://www.amazon.co.uk/gp/product/B00IUBTYO4?ie=UTF8&tag=gadge0a-21&linkCode=as2&camp=1634
http://store.hp.com/UKStore/Merch/Product.aspx?id=A7F64A&opt=A80&sel=BPRN