Canon All In One MX455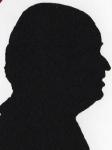 This is a four in one item often called a multi function device. It can print either from a PC or memory stick, it can scan either to a PC or memory stick, send and receive faxes for those who still use this feature and it can also copy.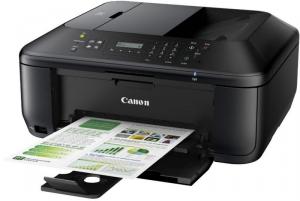 click image to enlarge
It is 44x34x20cm. It features the modern idea of a drop down flap at the base that is the multi paper input tray. However a feature I not keen on is that the output tray – by design – only partially drops and more than once when I want to do a quick print or scan I get told that the paper output tray is not open, why can it not fall fully open when you drop the input tray down and load paper, of course if you leave it loaded with paper you will add around 12cm extra to the depth.
The connections are back left of the unit, should you get a paper jam then the Duplex unit moves out easily to allow access to jammed paper. I had only one and that was easily cleared and unlike some units no inky fingers.
The front edge slopes down and forms part of the scanner lid so while the display and buttons are easy to see and read the whole part moves up to allow access to the flatbed. If however you prefer the sheet feeder this is a matter of flipping a half lid open to form the input tray, nice design that means if not in use the top is flat and pages can be laid onto it.
While you can still install via USB let's assume you do a Wi-Fi install which means the black unit can be behind a sofa or in a cupboard so as not to annoy the 'other half'.
When on the 5x4cm display lights up in Copy mode but a set of 2x2 buttons to its left Copy/Fax/Scan/Menu each have a blue LED in a corner to show which mode you are in. The display will go out after a period opf inactivity but the blue LED will not, the front right edge also has a blue LED to e Wi-Fi active.
All your actions are led through the display and unusually scanning is also controlled from the unit and not the PC, this is probably because you can scan to a USB stick so the PC does not even need to be switched on. I scanned to a PDF file in less than 20seconds.
Copying is of course also PC independent and you have a range of choices from the units display, a monochrome copy is just over 10seconds with a colour one around 15seconds.
All your main printing choices are from one screen 'printer properties' when you go to print. As always to try to match the claimed print speeds I use the fast choice and I got 16PPM with the 200 word document while the more normal 1500 word offering (spread over four pages) came in at just over 13PPM. Even on this setting which is a little noisy the quality was good with no real greying of the characters.
Just under two minutes for an A4 borderless print – or four near 15x10cm images – is excellent as was the quality and the image on photo page is delivered touch dry, all my photo printing was done using the Canon Photo Print module, it is easy to use and just as quick as other more complicated offerings.
Apart from Photo Printing this module can also print you Albums, CD Covers and Discs – with special media – Calendars, Stickers and Layout Prints. All these modules are easy to use and ideal for anyone who does these items irregularly.
A nice all round unit and being able to fax may be of interest to some. Copying has always been a standalone task but now scanning can be as well just remember to have a memory stick to hand.
The Canon Pixma MX455 is available from the link below for £58.33 with free delivery.
http://www.amazon.co.uk/gp/product/B00BECLSTU?ie=UTF8&tag=gadge0a-21&linkCode=as2&camp=1634
http://www.canon.co.uk/For_Home/Product_Finder/Multifunctionals/Inkjet/PIXMA_MX455/index.aspx