Canon AIO Pixma MP230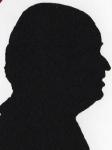 Review controls
For those wanting to print a bit, scan a little a copy occasionally this could be the answer. This small unit is easily able to sit on a shelf or under a desk without causing any problems. Press the on/off and print, scan or copy.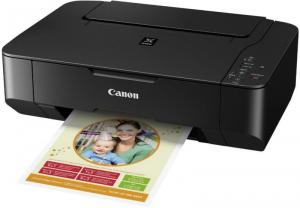 click image to enlarge
The Canon AIO Pixma MP230 all-in-one printer measures 44x32x12cm when shut. Place A4 paper in the rear sit up tray and the 12cm height becomes 32cm and the 32cm depth becomes 38cm.
This unit has no paper output door to open and output is delivered face up from the front base of the unit. It is a four colour two cartridge unit with ink changing being simple and easy, just hold the top of the unit and the open area above the paper output and lift to expose the printer carriage switch on and the cartridges come into view.
All the controls are on the top right edge, this consists of a total of four touch buttons and a similar number of LEDs.
There are five options from the printing menu, Standard, Photo Printing, Business Documents, Paper Saving and Envelopes. Additional options depend on the mode you are in but things like Duplex (manual), Fast Printing and Greyscale are normally available.
The basic printing qualities are Standard, High and Fast. Other choices such as paper size etc are also normally available.
It is now possible when printing to reach the claimed speeds since all manufacturers have to use the same sheets to produce timings so you no longer see unsupported claims of 30PPM etc. However it seems that those sheets are still a secret so I still need to use my own documents and printing the nonsensical 200 word document 'x' times in 'fast' mode comes out at 9.5ppm. Printing the more normal 1500 word document over four pages came in at 8ppm. As always the first and last page are not counted to give the print times but when you look at the claimed speeds on the Canon site – second link – my figures now look remarkable similar.
Printing an A4 Borderless image or four near 15x10cm images on a single sheet of photo paper takes 222 seconds.
Copying is the one thing that can be done without the PC being switched on or even connected, a colour copy takes 30seconds and a monochrome one takes 15seconds. Quality was excellent but the lack of a display means there is also a lack of choices so for instance no reduction or enlargement of the image is available.
Unless you scan a lot I suggest that the provided software from Canon Quick Menu will do all you require there is a fully automated mode that requires you only to place the item to be scanned face down on the flatbed.
Scanning an image using these settings takes around 30 seconds and should you want to e-mail it just tick a single box and it is opened in your email package with the attachment ready attached for you to fill in the recipient.
Canon used to litter your desktop with numerous icons now it's just two the manual and Canon Quick Menu the latter allows you to open everything else from within, by default this will load when you boot but you can stop this if you only use it occasionally and it does increase the boot time, just double click on it a couple of minutes before you want to use it.
The Canon Pixma MP230 is available from the first link below for £42.22 including delivery.
http://www.amazon.co.uk/gp/product/B008UP0I3Q?ie=UTF8&tag=gadge0a-21&linkCode=as2&camp=1634
http://www.canon.co.uk/For_Home/Product_Finder/Multifunctionals/Inkjet/PIXMA_MP230/