Brother DCP-195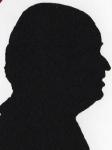 An All In One unit at the lower end of the cost spectrum. However unlike others that have two inks this unit has four. So is this small low slung sleek unit likely to provide everything that you may need to Print, Scan and Copy.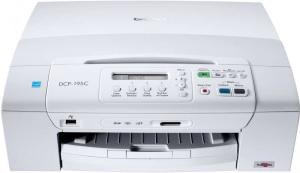 click image to enlarge
The Brother DCP-195C all-in-one measures 37x36x15cm and cream in colour. This is a basic all in one unit that has a single line display – black on grey -.
Power goes in at the back of the left side and USB connects inside the unit, the lead has a path from the back right edge.
There are four copy option buttons just in front of the display. To the right of this a column of four buttons Menu, +, -, and OK, + & - are on a rocker button. Further right are two lines of buttons, the top line of four are Photo Capture, Scan, Ink Management and on/off. The lower line is of three buttons is Stop/Exit and copy colour or mono.
For a budget unit to have four inks is unusual and replacing them is simple as there is an easily accessible door.
Under the front lip of the unit are USB stick and a multi card socket. Below this paper output and lower again the paper input tray.
This is very quiet even when printing in 'fast' mode; often in this mode otherwise quiet units are like angry bees. Printing the nonsensical 200 word document comes in at 18PPM, the more normal 1500 word document spread over four pages is only a little slower at just over 15PPM. Both are really only useful for layout purposes as the output is mid to light grey in colour. Printing in normal mode is somewhat slower but a nice sharp black and perfectly good.
Printing on glossy photo paper has been on some other Brother units a problem or on occasions not possible as the thicker paper refuses to feed. Here however it was fine but an A4 borderless page is slow at 530 seconds, that is not a misprint nearly nine minutes, the quality was reasonable and you are warned in advance that is will take time.
A lot of the claimed figures I found impossible to reproduce, I found a single A4 page as a one off copy took 35seconds monochrome and 45seconds colour. I agree that multiple copies will be quicker as this includes the initial scan time; I doubt the average home or small office user will normally want to print twenty off as standard.
The timings were using default quality and size but it is possible to increase/decrease size and change the quality.
As far as scanning goes this is easiest done from the unit and you can choose what to scan to, Email, Image, OCR etc. A single page scanned to email (saved as a jpg) takes around 50 seconds from start to a file being attached.
Other things that can be done from the machine are image printing from a card but selection is not easy and probably easiest if you keep a card with just the image you want to print from to avoid mistakes over which file to print.
This is a budget unit – under £60 – having separate inks means if you print images with a lot of Cyan that is the only cartridge you need to replace. Apart from 'fast' print mode the colours and blacks were crisp and sharp and photos although very slow were quite acceptable. Overall this is a unit who want to do a little of everything. It is available from the link below for £58.99 including delivery.
http://www.amazon.co.uk/gp/product/B002XDZOIK?ie=UTF8&tag=gadge0a-21&linkCode=as2&camp=1634
http://www.brother.co.uk/g3.cfm/s_page/215760/s_level/36230/s_product/DCP195CZU1