Brother DCP-J725DW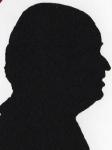 This is a small All In One unit capable of working via Wireless or USB. Often in the home space is a problem and a small unit capable of sitting on a shelf or in a cupboard is the answer not least to satisfy the 'Lounge Police'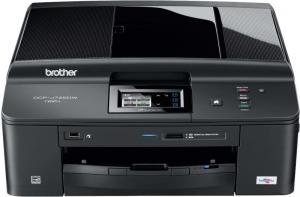 click image to enlarge
The Brother DCP-J725DW measures 37x35x17cm and weighs around 9kilos when the cartridges are installed and with paper in the built in tray.
The front edge has a column of three buttons plus a home button and on/off button and what looks like a huge TFT. In fact the 8x3cm screen is actually 4x3cm and the other half (right) is where you can program choices.
The home touchscreen (left) will display copy, scan, menu and photo with ink levels and wireless state above them. The right half simply shows a column with 1, 2 and 3 in blue before you attached a function to these choices.
The power lead plugs in at the back of the left side while USB plugs in back right and then inside the machine.
The installation is not quick and at times you might think it has stalled as information on the screen is sometimes sparse or only slowly changing. Overall it took just under 30 minutes from start to printing a test page.
You choose early on you either go Wi-Fi or USB and during my test period I used both systems on different PC's.
If you are 'scanning to' a destination that is already available it will take around 10 seconds to transfer an A4 page. The transfer for OCR is a longer process as you see very little action during the actual OCR process taking place.
Copying does not require any connection to the PC and there are a reasonable number of features re reduction or enlargement as well as quality available from the touchscreen. An A4 black and white image is produced in around 10seconds, while a colour image in A4 takes exactly twice that at 20seconds, quality was OK.
Printing my normal nonsensical 200 word document in fast mode produced a nice sharp black image at 20PPM. While the more normal 1500 word document (on four pages) printed at 16PPM. For both these tests I used a variety or weights and makes of paper and I think I only had one paper jam thought out the whole review.
As with the last Brother unit I could not feed photo paper how ever hard I tried, I could feed glossy inkjet paper but not photo paper. So here where I could tell you it took so long to print an A4 page on photo paper rather than give a time for plain paper I think I will not give timings as anyhow in the past Brothers time for photo paper printing has been slow.
There is a single paper tray in the base of the unit and paper is fed face down, it is stated to hold 'up to 100 sheets', I was not happy at more than around 60 sheets. Output is on top of the machine and stated to be 'up to 50 sheets', certainly long before that they started getting pushed out of sequence. You have both a flatbed and ADF for scanning and the latter is stated to hold 'up to 20 sheets' this I feel is ambitious. I could not feed any paper much beyond 150gsm where the stated maximum is 220gsm.
Doing my searches found the Brother DCP-725DW at a best price of £106.06 with free delivery from the first link below.
http://www.amazon.co.uk/gp/product/B005G3WDVA?ie=UTF8&tag=gadge0a-21&linkCode=as2&camp=1634
http://www.brother.co.uk/g3.cfm/s_page/215760/s_level/36230/s_product/DCPJ725DWZU1