HP Portable Printer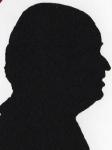 Review controls
I have reviewed a number of these small (they still print A4) printers, however the last was a while ago and this has just been launched by HP. So if you work away from power will it do what you need to do or is portable not on?
Buy Now!
HP OfficeJet 100
£250 including VAT
direct from HP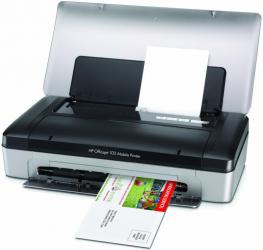 click image to enlarge
The HP OfficeJet 100 measures 33.5x19x8cm either with leads plugged in or with the supplied battery pack plugged in, in the latter configuration it weights 2.585kilos. It comes with decent sized ink cartridges – something other mobile units have not seemed to have – it is also stated to have battery power to print 'up to 500 pages' between needing power.
As always there is a raft of documents relating to safety and warranty, I finally found a single sheet with diagrams to help installation. The outside of the unit has no visible controls the rear has only connections so how do you turn it on?
That may sound a stupid question but even with the power adapter inserted and the power lead switched on it is not obvious from the diagrams as they show the various buttons in close up and not where they are, something needs to open but the lid of my unit seemed well and truly wedged shut – partly by transport tape but eventually I teased it open and after that everything became clear but unless you know the whole lid hinges open you might try to open up only the smaller black part at the back that could well form the paper tray.
The lid hinges from the back and adds 17cm to the 8cm height indeed you need another 6cm on top of this (total 31cm) for a small stack of A4 sheets into the sit up rear paper tray when preparing for printing of any job.
A CD is provided and the software should be installed even if you are planning to use it via Bluetooth rather than USB. On a reasonably fast PC it took seven minutes and just 200MB of hard disc space. Now if you print not from a PC only then that last task need not be completed as basic printing via Bluetooth from portable devices is supported.
The printing times I am going to give are for what I found acceptable, 'Fast Draft' was fine for text printing as indeed it was for a basic mixed document, however for complex PDF files 'Normal' was required and printing photos on photo paper really needs 'Best' so those are the modes I used and the times for each are shown.
Printing my normal 200 word document took four seconds a page. The far more normal 1500 word document (spread over four pages) took twenty seconds. Next what I call my 'Test Document' that has a variety of text sizes and styles as well as a seven colour bar chart as well as a four column table to complete the page this is printed from a PDF file and took 12 seconds. In all these cases time was taken from when printing started till it finished so no account of the dead time between pressing send and when it starts printing.
Next a two page tube map with up 60 station names in each of the nine columns that form the key to the map itself that is on the second page. While I printed this in Fast Draft the quality was not perfect as the blue text used in the key was somewhat pale and the map also presented a somewhat faded image, however this printed in only 12 seconds for the two pages. The same file printed in Normal took 84 seconds but was crisp and sharp.
While I doubt many will use a portable printed to print A4 images on photo paper or even four such images on a single sheet I did do so to get a timing this of course was in Best mode and the results were stunning if a rather slow process at 264seconds for the A4 page, however I can see temporary ID being produced at a smaller size.
Yes I can see a place for a portable printer and having it useable on battery could be a huge advantage not just for the travelling sales rep working from their car.
The HP Officejet 100 Mobile Printer is available from the link below for £225.72 including delivery.
http://www.amazon.co.uk/gp/product/B004V7WFQU?ie=UTF8&tag=gadge0a-21&linkCode=as2&camp=1634
http://h10010.www1.hp.com/wwpc/uk/en/ho/WF05a/18972-18972-3328062-236267-236267-4231339.html