Brother MFC-795CW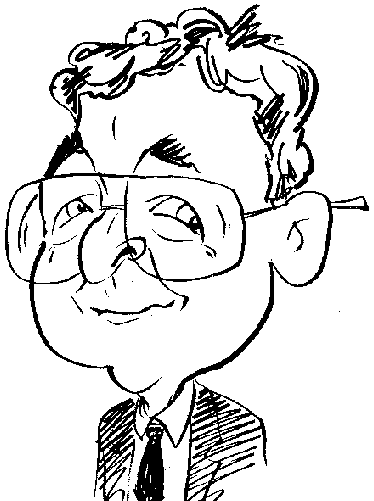 Review controls
Continuing my examination of various Brother All-in-One devices brings the MFC-795CW into focus.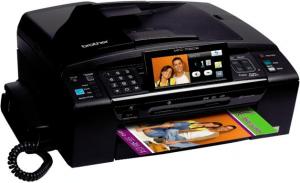 click image to enlarge
This All-in-One offers the standard diet of copy, print and scan functionality plus additional features of fax, telephone and answer machine capabilities making this model more suitable for a small office environment rather than a basic home user. As is Brother's usual practice, the "CW" part of the product's designation refers to the unit's cable and wireless connectivity options.
Adopting the usual matte and reflective black colour scheme that I have come to expect with Brother kit, the MFC-795CW's dimensions are 460 x 375 x 180mm (W x D x H) with a weight of 8.7kg. The reason for the extended width of this unit is the presence of the telephone handset and its cradle. While the cradle is permanently attached to the body of the unit, you have to connect the handset as part of setting up the product. You will also need to insert the four cartridges (black, yellow, cyan and magenta) into the conveniently positioned compartment on the front of the unit plus load paper into the paper tray.
Slotting into the front of the printer, this paper tray can hold 100 sheets in its main compartment. In addition you can store 20 sheets of 10 x 15cm photographic paper into a compartment mounted on top of the paper tray. As paper output is from the front of the unit, the paper tray also acts as the support for printed documents.
Positioned on top of the inkjet printer module is an A4 flatbed scanner. Options are available to scan direct to email, OCR, image or file with an optical resolution of up to 1200 x 2400dpi. An enhanced scan resolution of up to 19,200 x 19,200 is available. Built into the scanner lid is an ADF (Automatic Document Feeder) unit with a capacity of 15 sheets.
Running across the top front of the MFC-795CW is the unit's control panel. Taking up a central position in this panel is a 5-inch colour LCD touch screen that covers many, but not all, controls. To the left of the touch screen is the telephonic number pad along with buttons to redial, access the digital TAD (Telephone Answering Device), put the current call on hold, and use the speaker phone facility. Over on the right side are buttons to select the four main functions of Fax, Scan, Copy and Photo Capture plus Stop/Exit and Colour/Mono Start.
Situated between the control panel and the paper tray compartment are connection options for various devices. A USB port can be used for PictBridge connectivity or attaching a Flash stick. Memory card slots are available for Compact Flash or SD, SDHC, MS, MS Pro and xD-Picture card formats.
As mentioned early, the MFC-795CW has both telephone and faxing capabilities. You have access to answer machine facilities with your own 20-second outgoing message. Up to 100 speed dial entries can be stored and you can create up to six groups for specific messaging needs. Faxes can be in either colour or monochrome using the scanner and/or the ADF facility. There is also a Broadcasting option, restricted to mono, which can consist of groups, speed dials and up to 50 manually dialled numbers.
Brother has rated the print speed of this model at up to 35ppm monochrome and up to 28ppm colour. The only way I could get close to these figures with my 101-word test document was to set the print quality to the lowest level of Fast (often referred to as Draft). Even then I was only able to achieve 29ppm monochrome and 27ppm colour. The print quality was such that it would only be suitable for internal editing purposes. Switching to Normal print quality produced 8ppm monochrome and 6ppm with a colour image added. There was a further reduction in speed when selecting the top Fine quality setting. Monochrome output dropped to 4ppm while colour only managed 2.75ppm. A 10 x 15cm full colour photo took 83 seconds to complete while an A4 photocopy required 42 seconds to scan and then print the document. Print quality achieved by both Fine and Normal print modes was of a good standard although some might feel that the print speed was an issue.
After using this All-in-One for a short period, I came across a problem when attempting to print a basic document. Instead of the document, all I got was a blank sheet of paper. Fortunately the problem was easily solved by running the unit's cartridge cleaning routine. At the time of writing this problem had not returned.
The Brother MFC-795CW has been priced at £193.88. Replacement cartridges cost £22.31 for black and £11.15 for each of the three colours. A bundled pack of the three colours is available at £29.36. A full set of cartridges is priced at £48.15. While output quality of the Normal and Fine modes is good, the print speeds of this device when using these modes is rather off-putting. This review, consisting of 1.5 pages of text, took 28 seconds to print.
http://www.brother.co.uk/g3.cfm/s_page/215760/s_level/223670/s_product/MFC795CWZU1