Canon PowerShot SX280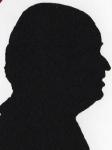 This has 20x optical zoom and its added weight is well distributed to make it holdable even with a substantial amount of zoom. While some may consider that 12.1MP is a little 'small' it is all down to the quality of the CMOS chip.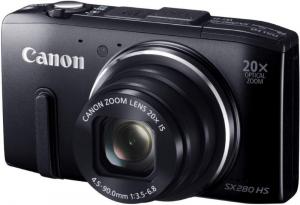 click image to enlarge
The Canon PowerShot SX280 measures 10.5x6x3cm and weights 230grams.
The right side has the wrist strap anchor point and a rubber bung to cover the AV and HDMI connections. The left side is clear, while the base has tripod screw and a door behind which the solid battery resides as well as any SD card you may insert. The face has the 20x zoom lens 4.5-90mm, this can extend by 5.5cm when fully zoomed in.
The top has the automatically popping up flash which is never nearer than 5cm from the lens, next the silvered shutter release with the zoom control around it, finally a flush on/off button. This leaves the back which is dominated by the 6.7x4.2cm TFT screen, to its right a twelve position wheel and below this two rows of two well marked buttons split by the ubiquitous five position joystick control that completes the top level controls.
As with all Canon Digital Cameras there are four images sizes L, M1, M2 and S. Here there are also four overall sizes controlled by image shape, 4:3, 16:9, 3:2 and 1:1 so in total 16 different sizes and qualities are available. These range from 12.1MP down to less than VGA.
I took good images in all lights with and without flash starting with the Auto mode and then progressing through some of the relevant scenes and even dabbled with manual mode, but as review times are limited I always start with what the novice can handle with ease.
As with all modern Digital Cameras you can use it to take video there are three sizes all utilizing 30FPS, 1920x1080, 1280x720 and 640x480. The highest resolution can also capture at 60FPS.
Now to tell you a little about some of the extra features that often get forgotten, it has Wi-Fi to allow automatic uploading of images. You also have GPS which can tell you exactly where you were when you took an image but this will require some of the available battery to keep this tracked.
The ultra wide 25mm lens means you can capture more when you are closer to a subject, often backing away as required by some cameras is not an option. It is possible to print images direct from the camera using Wi-Fi or via cable.
There is an ECO mode that is meant to allow more shots per battery charge but time constraints did not allow me to test this. I did however try out the high speed burst mode that works even at the highest resolutions, often this feature only works at lower resolutions.
Full sun is often a problem reading the TFT to see either what you have captured or what you have framed ready to capture, this – while not perfect – was better than a lot of units but size is something that has a trade off and no viewfinder is one of those now near redundant features that require a larger unit.
This was a small unit that easily fit in the pocket or bag, switch on and shoot leaving it to make all the decisions, when you know more you can offer more input by moving away from 'Auto' mode but do not decry what it can give in 'Auto' mode.
The Canon PowerShot SX280HS is available from the first link below for £228.99 with free delivery.
http://www.amazon.co.uk/gp/product/B00BYOY9DK?ie=UTF8&tag=gadge0a-21&linkCode=as2&camp=1634
http://www.canon.co.uk/For_Home/Product_Finder/Cameras/Digital_Camera/PowerShot/PowerShot_SX280_HS/