Canon MX870 All In One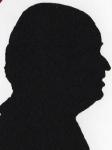 This black and grey Multi Function unit (it has Fax) from Canon is both easy to use while allowing the more experienced user to get more out of it with ease. My only doubt is how many people today still require the fax function.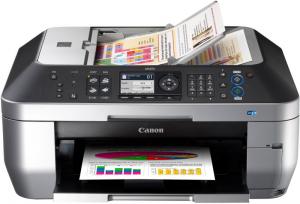 click image to enlarge
The Canon MX870 is 47x44x32cm with the rear tray open but unfilled and the automatic front delivery tray closed. Once you place paper in the rear input tray it will increase the last figure the height by around 18cm and with items printed sitting in the output tray it will increase the space required for depth (the middle figure) by around 16cm.
There are a total of 36 buttons on the front edge of the unit surrounding the 5x3.7cm TFT screen. You can have a basic printer and scanner controlled by just installing the printer driver software, however to enjoy the full features of this unit you need to install the Canon Solutions Menu and Easy Photo Print software also should you want it, the fax software, once done you have a very full featured unit that becomes a total solution.
Apart from USB connection you can also use Ethernet or Wireless so you should be able to find somewhere for it away from the gaze of the 'lounge police'.
Software installation from Canon is virtually automatic if you select the top option and you even get a fairly accurate timer countdown. For the novice the Solutions menu will be installed at bootup but if you don't want this simple untick a box on its front screen and then just load it when required. This software can handhold you through almost any task and for jobs you do less often it is ideal to make any task a simple process.
As always Canon units give clear sharp black print even in 'draft' mode whereas some other manufacturers draft modes are grey. Doing the nonsensical 200 word printed page produced 12PPM while the more normal 1500 word offering – spread over four pages – was produced only slightly slower at 10PPM. Unless you are printing special documents I see no reason with Canon units to print in any other mode but draft, as it is perfectly acceptable.
Printing either A4 images or four near 15x10cm images on a single borderless sheet both take 102 seconds per page. Fast and very clear with good depth, when printing on photo paper speed is not that important but this is good quality and good speed and best of all the images come out perfectly dry to the touch of your finger.
Scanning is best left to 'Solutions Manager' unless you do a lot of it as you can easily set it to OCR, image copy or even make a PDF. Setting the DPI is all from a single screen and everything is from a single interface.
For those who still send a receive faxes this unit sends at 33.6 and received faxes do not need to be printed out they can be saved to internal memory (without going near the PC) and then copied onto a memory stick or SD card.
Copying does not need the PC to be on and not only can you do a quick colour or monochrome copy but it can be reduced or increased in size from the TFT, everything can be adjusted on the TFT. There is both a flatbed and sheet feed and both work well. A single monochrome copy takes only 15seconds while a colour version is only fractionally longer.
A nice efficient unit that can run a small office, having four colours and a larger black cartridge means costs should not be too high. So no replacing of a whole cartridge when a single colour expires. This is certainly a unit for a short list.
Doing my Internet searches found the Canon Pixma MX870 at a best price of £159.50 including free delivery from the first link below.
http://www.printerland.co.uk/Canon-MX870-P110258.aspx?source=nextagplandCanonMX870
http://www.canon.co.uk/For_Home/Product_Finder/Multifunctionals/Inkjet/PIXMA_MX870/index.asp