Canon Pixma MX860 All In One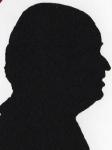 Review controls
Another Multi Function unit (it has Fax) silver grey with a broad black stripe around the top edge, so sad to say it will never pass the lounge police. However as an office machine there is little wrong with it.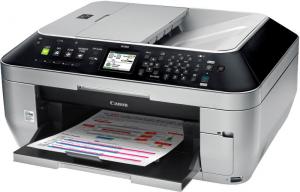 click image to enlarge
The Canon Pixma MX860 measures 48x35x7cm when closed. If you store A4 paper in the back vertical tray this adds close to 20cm to the height. You will probably need another 10cm clear at the front to the 35cm depth when printing. Space required might be 50x45x30cm this would allow you to place books on the flat-bed if say you sighting point were a shelf.
This is a five ink five cartridge unit. Printing the nonsensical 200 word document produced 12PPM in custom (set to speed) mode. The same page printed at 10PPM in 'fast' mode, the latter was still crisp and sharp and black whereas the former was a little grey. Printing a more normal 1500 word document spread over four pages came out at 11PPM in custom mode and 8PPM in 'fast' mode. Unless you have a specific reason stick with the 'fast' mode as the output is fine for normal letters etc.
Printing on photo paper is very quick, 110 seconds from starting to print unit a A4 borderless image is produced and this is the same time for four near 15x10cm images on a single A4 sheet, not only fast but good quality.
Scanning a colour picture using Canon Solutions Menu software - that will load at start-up until you uncheck a tick box – takes 35 seconds, a colour document 25 seconds and a black & white document 20 seconds. Strangely when you click on the Canon Scanner icon in My Computer it lists a range of items to scan to but this does not include any Canon Software.
I am afraid I can see little use in the fax option these days as everyone I speak with even in businesses tend to send documents as email attachments, however as it's there I test it and it works as it should.
Copying does not require the PC to be turned on or even connected. A colour page takes 25 seconds and a Black and White page 15 seconds.
Apart from the flatbed (important for coping from books or magazines) this unit also has a page feeder cleverly designed so that when not in use it is flat with the top of the unit allowing light items to sit on top of it. The ADF can scan in Duplex and should you have documents on both sides this saves the possibility of missing some sides.
By default the installation will create seven icons on the Desktop, while Solutions Menu is perhaps required if not automatically loaded as it is the Front End I see no reason why the other six should not be accessed from Programs.
There are 40 buttons either side of the 5x3.7cm TFT on the top of the front edge of the unit. As this is a Network unit as well as USB all the connections (including phone cable for the fax) are on the right back edge with the power input on the back left edge. You can also use this via Wi-Fi so it could just find a cupboard in the lounge.
Finally has a new found honesty started to invite the printer manufacturers for I think the first time ever (canon are by no means the worst offender) I got a faster print speed that that claimed, well done and may all other manufactures be shamed into following suit.
Doing my Internet searches found the Canon Pixma MX860 at a best price of £188.97 including free delivery from the first link below.
http://www.amazon.co.uk/gp/product/B001U3ZLVE?ie=UTF8&tag=gadge0a-21&linkCode=as2&camp=1634
I found the Canon Pixma MX860 available for $149 including free delivery from Amazon on the first link below.
http://www.amazon.com/gp/product/B001R4C5BK?ie=UTF8&tag=gadge0a5-20&linkCode=as2&camp=1789
The Canon Pixma MX860 is available for €228,95 including free delivery from Amazon on the first link below.
http://www.amazon.fr/gp/product/B001V5IZB4?ie=UTF8&tag=gadge04-21&linkCode=as2&camp=1642
http://www.canon.co.uk/For_Home/Product_Finder/Multifunctionals/Inkjet/PIXMA_MX860/index.asp