Canon Pixma MX330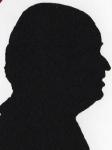 This is a multi function unit (as it has fax capabilities) but it can be used in a more normal on/off mode that certain of these types of units cannot. It is cream with a black top and sad to say even with the ADF folded it has no chance of passing the lounge police.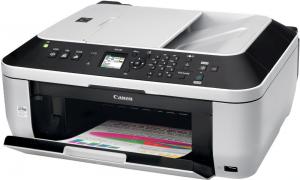 click image to enlarge
The Canon Pixma MX330 measures 44x50x20cm and is cream/black. I am always puzzled why manufacturers still bring out multi function (as opposed at All In One) models out for the home market as I know very few people who still use the fax function.
First the print speeds. I normally use the Custom mode adjusted to fast as the timing method but here there is also a fast mode and in my tests this was just as fast as the custom mode but gave a nearer black image. Printing the nonsensical 200 word document came in at 12PPM. Printing the more normal 1500 word document spread over four pages was printed at 10PPM.
Printing an A4 borderless print on photo paper (in best mode) took 2 minutes 52 seconds, this was also the time taken for four near 15x10cm images on a single sheet this action was done using the excellent Canon Photo Print software.
There are a total of 27 buttons on the sloping front edge of the unit to control it either side of a 4x3 colour display. The power lead enters back left, the USB lead back centre (in an indent) and the phone line (for the fax if you use it) back right.
There is both a flat-bed and a page feed, the latter folds flat so items can be placed on top of the unit.
Copying of course does not require the unit to be connected to a PC and there is a range of reduction/enlargement that can be done from it an A4 black/white copy take 15 seconds while a colour one take 30 seconds.
From pressing the on/off button you are able to scan within around five seconds.
Scanning can be done direct from the unit, from the supplied Canon software or the icon created in My Computer. Using the latter and Microsoft Scanner Wizard produced a very acceptable Black and White A4 image in 20 seconds.
OCR worked well with the normal proviso that if you give it a good sharp uncrumpled page you get good OCR output. It is possible to scan direct to a memory stick by using the USB port on the front of the unit. So you can not only copy but scan without use of a PC. This USB port also allows you to print (via Pict Bridge) direct from your camera and can also be used as a Bluetooth dongle (optional) allowing printing direct from phones and PDA's.
A recent unit I reviewed did not have the auto opening delivery tray this feature returns here. All other recent Canon units have had a separate paper tray at the base leaving the back (vertical) place for photo paper. Here you only have the single tray so items need to be removed when printing on photo paper.
If this model had not had the near useless fax I think the front layout would have been minimal and thus less cluttered. Having the document feed (stated to hold up to 30 pages) is useful and the flat-bed being under all the buttons means it is easier to select what you wish to copy without having to delve under pages of a book or magazine to make your selection.
This unit is stated to work with both Windows and Apple MAC
Doing my Internet searches found the Canon Pixma MX330 at a best price of £112.85 including free delivery from the first link below.
http://www.amazon.co.uk/gp/product/B001U3ZLV4?ie=UTF8&tag=gadge0a-21&linkCode=as2&camp=1634
Doing my Internet searches found the Canon Pixma MX330 available for $84.54 including free delivery from the first link below.
http://www.amazon.com/gp/product/B001R4C5VK?ie=UTF8&tag=gadge0a5-20&linkCode=as2&camp=1789
The Canon Pixma MX330 available for €134,42 including free delivery from the first link below.
http://www.amazon.fr/gp/product/B00264FT0O?ie=UTF8&tag=gadge04-21&linkCode=as2&camp=1642
http://www.canon.co.uk/For_Home/Product_Finder/Multifunctionals/Inkjet/PIXMA_MX330/index.asp?source=selector