Canon Pixma MX850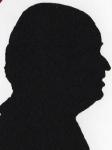 This is a multi function unit (as it has fax) but for me anyway the major selling point is it's ability to print A4 photo quality borderless images in 68seconds, yes I do mean one minute and eight seconds.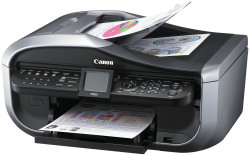 click to enlarge
Speed of photo printing has never been that important to me only quality, but when a MFU can print lovely images with great sharpness and depth in this time I wonder why some other units take ten times this long to produce an image.
It is quite large at 47x42x21cm and will never pass the lounge police as it is silver grey and matt black. The front edge has 45 buttons several LED's and a 5x4cm TFT display.
There are two methods of scanning using the flatbed or a novel page feed that runs only around half the length of the top but has a fold out lid for when in use. Using the default settings on the unit (PC not connected or turned on) it takes around 70 seconds to copy a colour page and around 50 seconds for a black and white one. Output is good and is difficult to tell the original from the copy, however if you do a lot of copying this would be slow. The TFT gives lots of options including quality and reduction and enlargement.
Scanning to the PC via Canon Solutions Centre is straightforward and you can easily set it to OCR the output, the default is of course for what you scan to be an image. However the choices of scan size for say emailing are all easy to choose options so the actual file size is a lot smaller.
Canon's software gem has long been Photo Print, this was the first software package to allow you to print four near 15x10cm images on an A4 sheet. While some other manufacturers have caught up and now offer this facility. The whole module makes selection of images very easy as is paper size and type and then the printing. A quick three stage process with all the choices clearly shown on the screen.
I find that faxing is requested less and less today with most able to get by with email and have had lots of discussions about the difference between printing, signing and scanning a document as opposed to faxing it. The fax on the unit works well and for those who need it then it is easy to use. As this is sold as an Office machine it may still be a requirement.
As a text printer this is good - rather than excellent - the quality is fine. Here I was thinking of speed. Printing the nonsensical 200 word document that is the nearest to what manufacturers decide it's speed with produces 20PPM quite rapid and even in custom mode (set fully to speed) the output is still black something some other manufactures cannot get. A more normal 1500 word document spread over four pages comes in at 16PPM. I would always be happy with this but it is not what the specifications say it can do.
This is a five ink (two blacks) unit and the quality of the photographs is excellent often better than what is achieved by six ink units. However as I stated at the start the star performance (and the real reason to buy this unit) is the speed that this quality is printed at I will say it again 68 seconds for either an A4 borderless image or four near 15x10cm images printed on a single page of photo paper and the image emerges all but dry, super quality super fast. If you need this facility then this unit is for you.
Of course it can also print direct from memory cards and it has a Pict Bridge socket. It can also print direct onto special CD's or DVD's.
Doing my Internet searches finds the Canon Pixma MX850 at a best price of £181.55 including free delivery from the first link below.
http://www.into-printers.com/public/1707.cfm
www.canon.co.uk/For_Home/Product_Finder/Multifunctionals/Inkjet/PIXMA_MX850/index.asp