The Epson DX7000F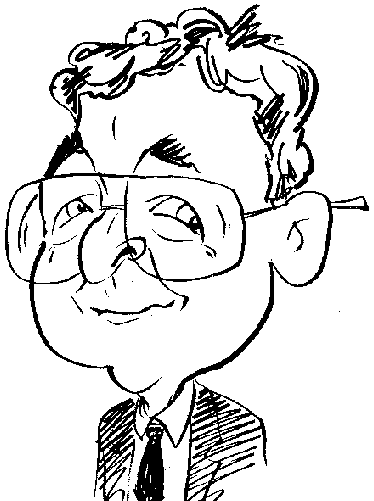 Having recently looked at the Epson inkjet printers and a flat bed scanner, it is now time to combine these facilities.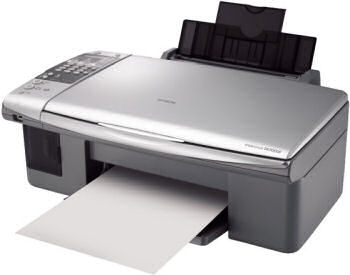 The Epson DX7000F is a multifunction device. This predominately dark grey product with a matt silver top combines an inkjet printer, flat-bed A4 scanner and fax capabilities within a single unit. You also get PictBridge and memory card (CF Type II, Memory Stick, SD/MMC and xD) connectivity with the latter being hidden in a front-mounted concealed compartment.
With a back-to-front paper pass-through route, the DX7000F measures 463 x 344 x 178cm (W x D x H). Power, USB and telephony connections are located at the back of the unit while the various control buttons and alphanumeric keypad are positioned on the top alongside the scanner. A small monochrome LCD window provides feedback information using a single line of scrolling text. I found this LCD rather difficult to read unless I was looking directly down to the screen.
Setting up this device requires the selection of a language and region, plus date and time using a combination of pick lists and the key pad. You can then insert the four (black, cyan, magenta and yellow) cartridges which make use of Epson's DURABrite ink technology.
Before attaching the DX7000F to a computer you will need to start the software installation. As we have come to expect, the software provided by Epson is comprehensive and useful. The installation procedure starts off with the required drivers for the scanner and printer. At this point you are advised to connect the printer to the computer. Following the recognition of the DX7000F and the installation of an electronic version of the User Guide and Epson's Easy Print module, you can cherry-pick from bundled software that includes ABBYY FineReader 6.0 Sprint (for Optical Character Recognition), Epson Web-to-Page; easy Photo Print; and Creativity Suite.
The product's built-in fax facilities allow you to send and receive faxes with the former controlled from the unit's telephony key pad or a handset if you choose to attach one. There are options to set the resolution and paper size plus create a fax header and speed dialling list. You can also print reports of any faxing activities.
The flat-bed A4 scanner has a resolution of 1200dpi. It can provide your normal scanning activities including OCR work with the ABBYY software while under the control of the computer. In standalone mode the scanner can be used to send documents direct to the printer as it acts as a photocopier. An A4 colour copy took 2 minutes 18 seconds to scan and print.
Epson has rated the printing element at 27ppm in both colour and monochrome. While I was able to more than match these figures, in fact I achieved 30ppm, this was using draft mode which is only really usable for internal editing purposes as the print is very faint. Switching to the Text setting produced much better print quality but did reduce the print speed to 9ppm. Adding an image to the text caused a further reduction to 6.5ppm.
When printing photos, either stored on your computer, via PictBridge or the various memory cards supported by this product, the results are perfectly acceptable with regards to quality but again speed issues were disappointing. Epson quotes a timing of 29 seconds for a 10 x 15cm photo but my tests were timed at 80 seconds in the basic photo mode or 195 seconds for best photo. A full A4 image took 8 minutes 18 seconds.
Along with the speed issues, the Epson DX7000F seems very heavy in its ink consumption if the Epson ink monitoring feature is to be believed. After installing brand new ink cartridges, the three colour cartridges has dropped to a level between 25 and 33% of total capacity after a single day of normal usage. At this rate it would not take long for ink costs to easily outstrip the £119.99 asking price for this multifunction device.
http://www.epson.co.uk/printers/durabrite_general_printers/Epson_Stylus_DX7000F_printer.htm
Best price £104.45 from Amazon :
http://www.amazon.co.uk/gp/product/B000JXJ2WK