Osprey 2 Mini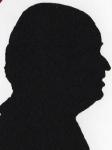 When you are out and about with your Tablet or Notebook there are many times when you want Internet access. The vast majority of such devices do not have mobile SIM slots so up until now you have to rely on café and other places open Internet, not any more.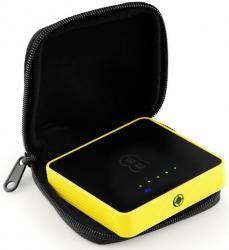 click image to enlarge
At a recent Christmas In July event by the Dixons Store Group this was the stand out device that I saw on the day and I got the chance to test it.
It is an EE device that provides a mobile hot spot for I am told up to ten devices, I tried it with three.
The device is 7.5x7.5x1.3cm and weights 92grams with band attached.
Three different coloured bands are supplied which could be used to identify the network or just for fashion purposes.
When the band is attached only two items are visible on the sides the on/off button that shows between one and four segments of a circle in green dependant on the amount of charge and a micro USB socket which you use to charge the device. If you remove the band then the Micro SIM slot comes into view although it is still covered by a flip out cover which requires a fingernail to open.
The top of the device has five LEDs in a row just back from the face that has the on/off button. In front of the LEDs are 4G, 3G and envelope. These tell you if you have a 4G or 3G connection and the envelope denotes messages.
Setup should be easy, it's just a matter of inserting the provided SIM there are only two possible ways to insert it, having tried both without success led me to the inadequate instructions, I then tried the online help, again no real help.
The SIM is tight and it really needs a substantial push – far harder than any phone I have used – and until it clicks you will not have connection, as for removal a very small screwdriver is required to pull it out once unclicked.
The idea is sound how often have you been out and about without Wi-Fi this gives you it. The Osprey 2 Mini gives 6GB of data that is valid for 90 days.
The three devices I connected are a notebook, a tablet and a mobile phone. Yes it even works with a mobile I assume it needs an EE SIM but that is what my mobile has however that is for calls only and it has no data segment.
You do need to keep an eye on the Osprey battery as it died on me more than once when out. In a continuous test with it on from 9AM to 5.20PM when the last segment turned from green to red was it saying HELP. I actually used it for data transfer for less than an hour and if I turned it on and off then I would get far more time.
A final point for anyone who in there home has dodgy Internet then providing the mobile signal is good this can become a belt and braces solution to keep you going.
The Osprey 2 Mini is available from the link below for £49.99 from their stores or from the link below.
http://www.currys.co.uk/gbuk/phones-broadband-gps/mobile-phones-and-broadband/mobile-broadband/ee-osprey-2-mini-pay-as-you-go-mobile-wifi-10133131-pdt.html