D-Link Wi-Fi Everywhere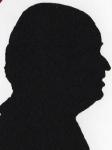 This unit is the size of a 13amp three way adapter. It does have a 13amp plug but few things can be plugged into it. The main task is as a Wi-Fi extender it can also be used to play music via its one connection a 3.5mm socket.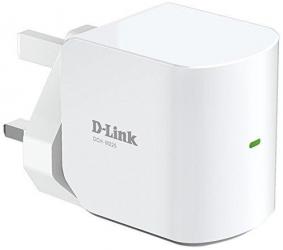 click image to enlarge
Setting it up to extend your Wi-Fi is simple and if you have an area that is just about covered like maybe an attic room then this will help.
It is 4.5x5x6.5cm when plug is inserted.
The right side has a button to enter the required modes. The front has an LED to slow what is happening. The third connection is a 3.5mm socket on the underside and this allows you to connect a headset or a set of speakers so you can play music from anywhere else on your network.
Yes I did say underside which means anyone with skirting board 13amp plugs could be in trouble as there will be no room to insert even an 'L' shaped 3.5mm lead. This is not of course for higher mounted sockets. The only solution I found for the skirting board problem was to use an extension lead 'gang socket' and not a 'surge strip' as the latter will not conduct the Wi-Fi signal.
The illustration shown on the D-Link site would also solve it but the level of the sockets looks unusual to me.
Both DLNA and Apple Air Play are supported.
The WPS button on the side of the unit should set up a link to your Wi-Fi and then either of the methods mentioned above should allow you hear music where you want from whatever speakers you want.
It works by setting its own network – with top level security – running alongside your own network so once setup you should still be able to use your own network even in the remote area such as the attic I mentioned to both listen to your music and also keep in touch with the outside world using the D-Link Wi-Fi Everywhere dongle.
Unlike other power adapters that need 'two' to work this all functions from the single plug. It is stated to give up to 300Mbps.
It supports 802.11n/g/b running on the 2.4GHz band, it has two internal antennas.
Stated supported devices are IOS and Android as well as Windows Media Player and iTunes.
There is a Quick Install Guide and the full user manual can be downloaded from the D-Link site.
Like so many such devices DLNA support is not always as easy to setup as you may think and placing the 3.5mm socket on the underside is not a clever design, otherwise this could well suit a layout such as the one described with an attic room that is flaky in its normal connection.
The D-Link Music Everywhere is available from the first link below for £44.95 with free delivery.
http://www.amazon.co.uk/gp/product/B00O1RT9QY?ie=UTF8&tag=gadge0a-21&linkCode=as2&camp=1634
http://www.dlink.com/uk/en/home-solutions/mydlink-home/music-everywhere/dch-m225-music-everywhere