Epson DX6000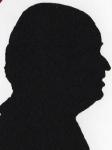 This is far more like what I would expect from Epson than the DX4000 I reviewed recently. The look, the output quality in fact the whole experience was lots better.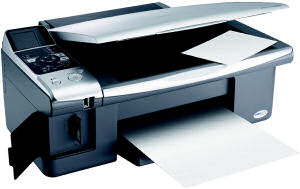 This is a four colour four cartridge offering. The software - as with most printers/all in ones is partially installed before you attach the unit. Unlike the DX4000 this came back to me after the initial install with options to install the rest of the software that includes some nice printing and OCR software. The total install time - two parts - was around 30 minutes and afterwards my hard disc had 1.1GB less space but I did install everything. If you add another 10 minutes to get the various bits of tape off the unit and unseal the cartridges you should be up and running in 40 minutes.
It is 46x35x18cm and weights only around 6.5kilos. It is black and grey and has two card slots that in theory anyway allow you to print direct from the card when the printer is turned off/not connected. However despite trying several all I got on the screen - no matter how long I waited - was a '?'. There is also a Pict Bridge connection but while this works with a camera connection like some other units it will not support even small pen/stick drives. Interestingly in the specifications it has 'yes' to USB direct print.
Copying worked well but I could not get close to the claimed speeds of '27PPM' for colour of black. In fact I would have been delighted with 2.7PPM. It makes no statement as to if that speed is from Windows or from the unit. However my tests found copying a single A4 page in black took around 25seconds and colour around 40seconds. Quality was fine and colour was good also.
Next scanning that uses the same flatbed but sends the output to the printer and I was happy with items scanned as images and also the OCR output via the supplied ABBYY fine reader 6.
I rarely print A4 or 4 images to an A4 sheet on plain paper as I prefer to use the best setting and photo glossy or semi glossy paper. However on this occasion I did some on plain inkjet paper and while they lacked the sparkle and intensity of the same images on the photo paper they were rather good and of course printed in far less time.
While the printing speeds were considerably better than those on the DX4000 they were still not brilliant. 18PPM for the ubiquitous 200 word document and around 13.5PPM for a 1500 word document spread over four pages, all printed in a rather grey draft mode. An A4 image on plain inkjet paper took nearly two minutes. The same image on glossy photo paper in 'best' mode was just over six minutes. Good for quality but maybe a little slow however if you are printing just a few this does not matter a great deal.
Certainly the only claims I saw were for a 10x15cm image and that was 28seconds but as no mode was mentioned I cannot claim anything, certainly in best mode the time was five times that claimed.
As with all Epson printers the first set of cartridges will not last long as a good part of the first set is used to charge the lines to the nozzles. However Epson cartridges are a great deal cheaper than most at around £6 each (remember you need 4). The Durabrite ink has a resin coating and is water resistant (do not try giving it a bath) and guaranteed not to fade for 'up to 120years'.
There is a nice set of software and indeed you can print four images without borders on an A4 sheet. Having recently reviewed a rather disappointing MFU (same but with fax) from HP that could only print 15x10cm with tab borderless it is nice to be able to print up to A4 from the driver and 4 near 15x10cm images on A4 from the Epson software.
Doing my Internet searches found the DX6000 at a best price of £59.99 from the first link below.
http://www.amazon.co.uk/gp/product/B000HVA44E
http://www.epson.co.uk/products/durabrite_general_printers/Stylus_DX6000_specs.htm