Epson DX 4000 All In One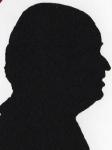 A grey and shiny black box that prints, scans and copies, it's an All In One that Epson calls an entry level model.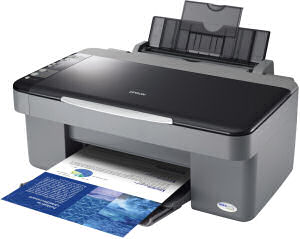 It is 43x35x17cm when the rear paper input is closed with paper inserted this increases the 17cm height to 32cm and the 35cm depth to 45cm. The weight is 5.7kilos. It is a four ink four cartridge offering meaning if you use a lot of one particular colour then you only need to replace that cartridge. As with all Epson units the first set of cartridges last less time than any replacement as initial charging uses a proportion of the ink.
The only controls on the unit are a total of seven buttons and six LED's to the left of the flatbed scanner and these are easy to understand and use. The USB lead fits back top left while the power adapter lead fits bottom back right. One of the buttons toggles between A4 and 15x10cm page size. There is however no card slots Pict Bridge or USB stick/pen drive support.

After completing my tests I always look for two links the best price and a link to the Epson site showing the product reviewed. As far as print figures for inkjets regular readers will know that the figures claimed are never obtainable. However luckily I was not eating or drinking when I read the copy speed figures as I would certainly have choked.
Like most All In Ones you can copy in black or colour when the PC is off or not even connected. My tests (repeated several times) produced 123seconds per colour A4 copy and 45 seconds for black. Doing the same tests accepting the defaults within Windows gave 220 seconds for colour and 190 seconds for black. The figures given by Epson claim 'approx 5.3seconds' black text and 'approx 12.1seconds' colour text. No mention is made of if that's in or out of Windows but even if the decimal point is in the wrong place they have no comparison to those I got.
Scanning was okay and reasonable accurate but the installation process does not seem to install any OCR capability so I can only judge by the quality of jpg produced.
Printing the nonsensical 200 word document in draft mode came in at 16PPM but the output quality was very grey and only suitable for placement purposes. Printing a real life 1500 word document spread over four pages came through at 10PPM again very grey and only suitable for checking.
Printing quality on photo paper was good, I always print a range of stored images as well as some specific to individual tasks. Looking at the output for several of the stored images and comparing them the inks used and quality of the Epson images was certainly above average. Printing was however slow, I do not particularly care about speed (I remember one unit that took over 24 minutes to print an A4 borderless page) but while that was not from Epson the 15 minutes this took to print an A4 borderless page was far too long. Printing four 9x13cm images on an A4 page also took too long at 11 minutes.
The software provided 'for handholding' works well and any novice should not be left wondering how to do this or that.
Of course the unit sent to me may have been faulty but apart from the slow speeds it did everything it should, the installation produced no error messages and the unit was brand new. I have another model due in shortly not an entry level unit but from the same range.
Doing my Internet searches found the DX4000 at a best price of £44.99 including free delivery from the first link below.
http://www.amazon.co.uk/Epson-Stylus-DX4000-Multifunction-Printer/dp/B000HVA40I
http://www.epson.co.uk/products/all_in_one_products/Stylus_DX4000.htm