Two different types of speakers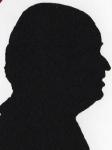 Review controls
First an offering from Altec Lansing whose two speakers each have their own sub woofers. Second an offering from Gear 4 intended to pep up the output from your iPod of almost any type.
Buy Now!
Altec Lansing FX3022
£69.07 including delivery
from Amazon


Gear4 Duo PG288
£76.99 from Amazon
including shipping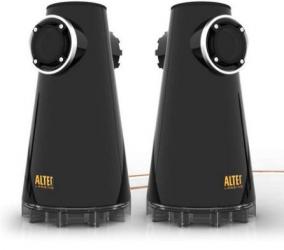 click image to enlarge
Altec Lansing FX3022
This is a pair of speakers with what amounts to a sub woofer built into the units. So instead of a pair of speakers that require a separate unit to handle the bass these speakers do it without any extra assistance.
These can be used with a PC or any other device needing output but they can also be used as out for an MP3 or iPod device.
The two speakers are a similar size but the right one has on/off and volume controls on top and all the inputs. The two units are connected by a quite thick lead. I suggest playing a piece of music through whatever you currently use for speakers and then playing the same piece through these Altec Lansing offerings. Unless you are using something quite superior I would expect the Altec Lansing to win hands down.
They are shaped rather like a coffee flask wider at the bottom. They are 26cm tall 13cm across at the bottom and 7cm across at the top. Each has a 4.5cm across speaker at the front very near the top and each has an 8.5 bass speaker underneath. Ideally these need to be floor mounted. Should you place them on your desk the vibrations will be disturbing.
Sign of the times, there is a thirty two page safety instructions booklet in seven languages and a single sheet with pictures to tell you how to assemble and operate the unit. These mini lighthouses give a very good quality sound.
The lead connecting the two speakers is two metres while the power adapter lead is 1.8metres. The right speaker has the hard wired lead to the left speaker, the DC input, input from PC etc and finally Aux input.
The only controls are on the top of the right speaker a central push with LED and two small buttons on either side to increase or decrease the volume. If I have a complaint it's that there is no way to decrease the bass.
Doing my Internet searches found the Altec Lansing FX3022 at a best price of £69.07 including delivery. I see from the site they are also available in white.
http://www.amazon.co.uk/gp/product/B001HIVWZG?ie=UTF8&tag=gadge0a-21&linkCode=as2&camp=1634
http://www.alteclansing.co.uk/proddata.php?partno=E3022)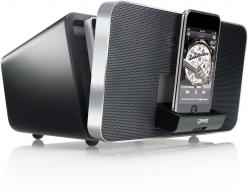 click image to enlarge
Gear 4 DUO PG288
One single unit that can transform into four different ways of being used so in effect its four units in one.
This is an all in one unit 22x19x12cm, however should you want it without the fairly substantial sub woofer this can be removed and the depth is then reduced to 5cm. It can also be used via a line in socket as speakers for a PC or for anything else with a 3.5mm socket (lead not supplied). Finally this unit has a Lithium Ion battery so it can be used without mains power for up to eight hours.
There is a multi language manual with the first six pages in English that should manage to let you use it in all its forms. I managed to do so without recourse to the manual, admittedly I found out about the battery by wondering what the on/off button on the back was for as this would normally be hidden by the sub woofer.
While this is being reviewed just after the Altec Lansing item above the sub woofer is good but not as powerful as that of the above. There are three push buttons on the top front edge the middle is on/off the left reduces volume and the right increases it. I found maximum volume was rather too loud and as the volume increases so does the bass that like the above can become a little overpowering. When power is on a blue LED shines through the front speaker grill, when connected but off this shines red.
There are a range of iPod docks that fit in the drop down docker so almost all iPods should be suited. Detaching the sub woofer allows the unit to be used outside without mains and you could even take it out and about giving increased output to your iPod. Should you want it then it even comes with a remote control.
Doing my Internet searches found the Gear 4 Duo PG288 at a best price of £76.99 from the first link below.
http://www.amazon.co.uk/gp/product/B001I27ZWK?ie=UTF8&tag=gadge0a-21&linkCode=as2&camp=1634