Dell Photo 926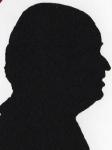 Review controls
Dell All In Ones tend to look amazingly bland a cream box, but then this could well get access to the lounge that grey units may be banned from.
Buy Now
Dell Photo Printer 926
Direct from Dell for £71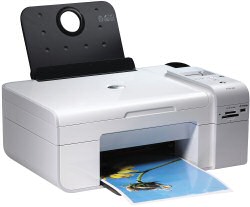 Image courtesy
Dell
Inc.
Unlike most modern units the connection of the USB cable is almost at the beginning of the installation process. Ten minutes later it is completed and I am 606MB of hard disc space down.
As soon as it prints the on screen indication reminds me of the software used by Lexmark - this is not derogatory - as their indicators are one of the best around.
This is either a four or six ink unit as the photo cartridge can be removed for those needing to print draft documents, essential if you wish to get beyond around two pages a minute.
I am pleased to say that the photo cartridge comes with a small holder to stop the ink drying out when it is not inserted.
The unit is 44x30x18cm when closed. Lift the paper storage tray and this adds 17cm to the height and 9cm to the depth. Should you extend the paper output tray this adds another 30cm to the depth. I tended to allow pages to fall onto the desk.
The OCR software supplied is from Abbyy and is perfectly acceptable however for some reason this is not in the list of items that you can scan to. If you wish to scan an image you get the various items installed by the process but to scan a page of text to Abbey you either need to scan from within it or add it manually to the list, not that user friendly for a company who supply a lot of items to novice users.
The software other holds the hand well giving easy to follow choices and these results are good.
Copying is possible from within the Windows software and again holds the hand well for the novice but surely most people copy from outside Windows either with the PC off or not even connected. The quality was again quite acceptable but as there are only seven buttons and a 5cm long LCD display anything but a like for like copy can take a while to produce.
Fax software is included but this can only send using Windows software and the unit has no ability to receive faxes so not the greatest feature.
Printing images direct from cards is another job that could be easier. The unit has two card slots one for SD, MS, XD and MMC while the other is for Compact Flash and Micro Drive there is also a Pict Bridge slot and this will also happily accept USB stick drives.
I gave it a stick drive with 44 images on it. It prints a proof sheet with up to 25 images per page. The two page operation took just over ten minutes, not that quick. You then fill in certain details in circles under the boxes like if you want 1, 2, 3 or 4 of that image printed. There is also a box at the top of the sheet where the size of the image is selected 10x15cm on that sized paper or 10x15cm on A4 paper, 13x18cm on A4 paper or 20x25cm on A4 paper. To give just a printing indication for a 20x25cm image it took 330seconds so not that quick.
Printing direct from the PC was less fuss but not that quick, selecting borderless for four 9x13cm images on a single A4 sheet took 360seconds and they were 9x13cm images ignoring my request to stretch the image to the sides of the sheet. The only successful A4 images I printed were single ones taking around 380seconds. Give it a good image and the output will be good if somewhat slow.
The current price from the link below is £71 assuming you do not need a USB lead.
http://www1.euro.dell.com/content/products/productdetails.aspx/print_926