Canon Pixma IP6220D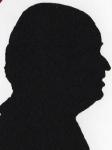 Often you buy a printer for text with the fact that it can print photos is an extra. With the Canon Pixma IP6220D it's the other way round, this is a excellent photo printer.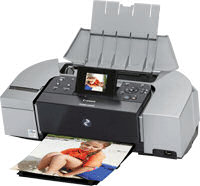 It is a small and smart enclosure at 42x26x15 the latter increases by another 15cm when paper is stored in the 'sit up and beg' vertical position at the rear of the unit.
This is a four ink - two cartridge - solution and that makes the printing quality and speed even more unusual.
There are four printing modes, best, normal, fast and custom, the latter produces a faster - albeit greyer - draft mode, however as the adjustment between speed and quality is then tweaked fully to the speed size the custom mode can produce just about whatever you require.
Doing the standard 200 word document test produced 10 PPM in fast mode however in custom fast this is increased to 12PPM, neither mode was that fast and certainly bore no relation to the claimed speed and in case the output was grey and only really suitable for checking.
The more normal layout with 1500 words spread over four pages produced 6.5PPM in the custom fast mode, not really that good and of course the output was grey not black.
So far apart from the styling not a lot to recommend this unit however ask it to print photos and this Jekyll and Hide unit really shines. I am not that concerned with speed of printing in photo mode - only quality - well this unit is rapid. Printing an A4 borderless sheet in either a single image or four close to 15x10cm images using the supplied Canon Easy Photo Print software took between 140 and 145seconds to print a page. Not just print it but have wonderful depth and sharpness, a lot better than a number of four and six cartridge offerings I have reviewed.
By coincidence I am reviewing an excellent Canon Ixus pocket camera and some of the images came from this, however, a lot of my test images are stored to use with each printer and the results also retained with the printer used written on the rear.
This unit certainly came in high up the list against far higher specification units that also cost a lot more. With plain paper I use a range of weights of paper mixed, a good way of finding any weakness and likelihood of paper jam. With Photo Paper I tend also to print with HP, Epson and Canon offerings mixed just to check that the output is just as good, clear and sharp, even though manufacturers would like you only to use their inks and paper - it is where they make profits - I would certainly recommend to use the manufacturers own ink but whichever brand of photo paper is on special will probably fulfil the needs.
The printer can print from most card types directly by opening a door on the left side of the unit to reveal the card slots. It also has a Pict Bridge USB slot to print direct from a range of cameras. Images can be displayed on a 5x4cm screen on the printer. This screen can be pulled forward by around 35degrees to help with difficult light. The inbuilt knowledge of the unit allows manipulation of images.
The software supplied is top notch, as stated Canon are the only manufacturer that allow printing of four very close to 15x10cm images borderless on a A4 sheet.
If you want to print photographs then this printer should certainly be on any - very -short list, I would suggest for text that it is only for occasional use, perhaps a laser for text, this for photos would be an ideal solution. Best price of £69.99 from link below. If this was only a photo printer I would certainly recommend the 5x5 award.
http://www.shopping4cameras.com/products/details.cfm?PRODUCT=0011B011AA&refer=dlt
http://www.canon.co.uk/For_Home/Product_Finder/Printers/Bubble_Jet/PIXMA_iP6220D/