PagePlus X4 provides powerful DTP

As not every Office suite contain a DTP application, many computer users struggle to produce business cards, posters, invitations and a whole range of other publications using a word processor. Serif's PagePlus X4 brings professional quality DTP within the reach of many small companies, clubs and even individuals.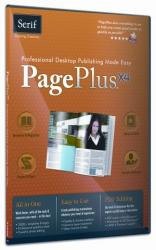 DTP packages have often been seen as both too expensive and too complex for the average user. PPX4 is a versatile and powerful program and it appears that Serif recognises the fact that many people need to produce professional results as an adjunct to their normal work and not necessarily as a main stream activity. Consequently, the company has put a lot of effort into making it user-friendly. Many of the items in the help files incorporate very useful background information rather than just providing the information in how to carry out that particular task.
In practice, I found that I could get started immediately with it even though I would imagine that the majority of those totally new to DTP would find that the provided tutorials were very valuable when they first start using the program. That having been said, it should not take very long for anyone to produce attractive looking simple publications. There are, by the way, selections of templates that can be used as the starting point.
The extensive videos and on-line tutorials then provide users with useful resources to enable them to understand the vast range features and then master their use. Here, there are two issues which the designers appear to have addressed effectively. On the one hand, the user familiar with DTP, will need to learn how a particular result is achieved in PPX4; while the novice user will often need, in the first instance, to understand the features and their benefits even before going on to learn how to use them.
PPX4 can import directly a variety of content, size it and place it where required. It supports a wide range of text and graphic formats as well as TWAIN from a scanner. There are useful photo editing features incorporated including quick-fix ones such as easy red-eye removal and blemish touching up. Similarly, it has a range of artistic text tools and graphics tools which will enable those with the necessary flair to add impact to the publications they produce.
Once completed, there are a number of ways publications can be output. These include to a printer, or export as a PDF (so that they can, for example, be sent to an external commercial printer). Here, it is easy to switch between RGB and CMYK to meet the printer's requirements. PDF slideshows with a range of different types of transitions can also be produced as well as HTML document for emailing. In addition, there is also a Web publishing utility.
Overall, this is a most practical program. Users will find it easy to start getting results and then, as they learn more, they will be able to make even better use of its features and facilities.
Having a list price of £79.99 from the Serif Web site (www.serif.com) it can be obtained from Amazon at £67.99.