Nuance's advanced Power PDF

Although applications are increasingly able to save files directly as PDFs, there is much more to PDFs and Nuance's Power PDF in particular. While the Standard version will meet the needs of the home and small business user, Advanced is targeted at corporate users with features such as redaction – the ability to black out specific names or other pieces of information.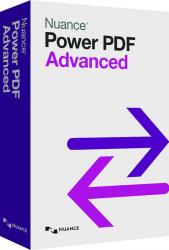 click image to enlarge
Power PDF is straightforward to install and there is a helpful reminder that, if you change your computer and will want to use it on the new configuration, make sure that you have an active internet connection as this will de-activate your licence automatically so that one can re-install the software again with the same serial number.
Once installed it can be treated as either a standalone program or one that is closely integrated with Microsoft applications. In both cases there is the choice to open the entire Power PDF program or just either Convert Assistant or Create Assistant.
It is able to create PDFs from a variety of sources, including scanners, in addition to normal Office applications. Conversely, it will also convert PDFs to a range of formats including Word, Excel, PowerPoint and WordPerfect.
There are a vast array of PDF Create options including the choice of PDF version, adding a watermark and a whole range of security levels including no printing and no copying. The effect of this is that, although it is easy to use at a basic level, one needs to spend time and effort to understand the implications of the various options. A further feature enables one to create a PDF and then email it.
PDF Convert enables one to take PDF files and produces fully-formatted editable files in a number of commonly used formats. They are Word, Excel, PowerPoint, Corel WordPerfect and RTF formats. In addition to its general purpose "Standard" processing mode which regenerates page layout etc., there are also Spreadsheet and Form modes. The latter uses Logical Form Recognition technology and is designed to analyse and reproduce form elements and is for use where the pages have spaces, edit boxes, tick boxes and similar elements for collecting information.
The OCR function, which understandably is not as sophisticated as the full version of Nuance's OmniPage, supports a vast array of individual languages as well as having an auto-recognise facility.
I found it very easy to start using it for both creating PDFs and converting PDFs to Word documents. Then, despite it having a familiar ribbon-style interface I found that it needed a bit of effort to get to grips with all the many available options and to change the settings appropriately. It's worthwhile putting in some effort so as to have access to an extremely wide range of features and facilities that will meet virtually every need.
Nuance's Power PDF Standard and Advanced versions are competitively priced £79.99 and £139.99 respectively while the former is also available on Amazon priced at £62.18. In addition, educational users can also buy the Standard version for about £31 via an Online Validation Program