Power PDF Version 2

Review controls
Version 2 of Power PDF from Nuance is an update that has also been designed to take into account the latest features in Windows 10 including touch screen technology.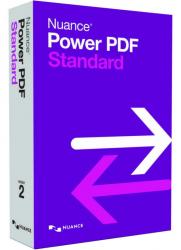 click image to enlarge
Fundamentally, it enables one to view PDF documents and then, if desired, to convert them into one of a number of standard document formats or, conversely, enables one to prepare a PDF from a number of different sources. There are two versions: Advanced and Standard. The former has a full range of features to meet the needs of the corporate user , such as Bates Numbering (more of that later), batch processing and advanced security while the latter will meet the needs of the more general user.
When viewing a PDF document one can scroll through it page by page or use Document Assembly to view a screen full of thumbnails. This is useful in finding one's way around a long document. One can then work on the entire document or a number of pages which can then be copied or extracted and then, if required, converted to a fully-formatted editable document. It can then be worked on in much the same way as any other Word, Excel etc document.
In addition, the built-in OCR enables image-only PDF files to be made "searchable". (OmniPage OCR is another Nuance product.) This is particularly useful with instruction manuals and other documents which one does not actually read but which one uses as a source of information.
Although word processors and many other applications are now able to deliver their output as PDFs, this is not their prime function. Here Power PDF scores. It can combine and assemble documents from a variety of sources including a scanner in addition to Word, JPG and TIF files. In addition is is able to produce documents which are compliant with the archiving standards PDF/A. While this latter might not sound important it is aimed at enabling documents to remain readable in the long term -- important for both family and business documents.
Extensions are provided for Internet Explorer and Firefox etc. to enable PDFs to be generated directly from the html pages being viewed. These can be saved as individual documents or incorporated into larger ones.
One useful facility for the business user in the Advanced version is Bates Numbering. This is a useful method of indexing documents for easy identification and retrieval which is widely used in the legal profession but but which can usefully employed in many other disciplines. Other business related facilities are the ability to work smoothly with many of the popular document management systems as well as handling security to control access to sensitive documents.
Here 128- or 256-bit AES encryption and permission control can be used to limit document viewing, printing and modification and there is the ability to use a redaction capability to automatically inspect documents and remove sensitive data for safe and secure document sharing i.e. blank out sensitive items that should not become public knowledge.
Overall, I found that it is an easy program to get started with even though it needs a reasonable amount of effort to get to take advantage of all its features. In reality, one tends to concentrate initially on the basic features and then get to grip with the wider range of available features and soon appreciates the fact that everything that one needs that involves PDFs is just in the one program.
The Power PDF Advanced version 2, priced at £139.99, incorporates the security and other features more appropriate to the corporate environment while Standard 2, which is priced at £79.99, will meet most people's needs.