Roberts Stream 93i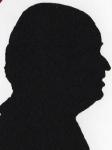 Review controls
This looks like a conventional DAB/FM radio and indeed it has both those functions, it is also able to be an Auxiliary output, play anything from a Media server and is also the best – and easiest to use – Internet Radio I have seen.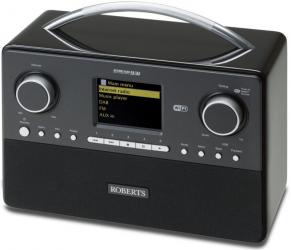 click image to enlarge
The Roberts Stream93i measures 24x17x19cm, the last figure is the height to the top of the built in carry handle, the middle figure assumes you have the mains lead plugged into the back. It has a 45cm five piece rod aerial for reception of DAB/FM radio.
My unit had shiny black sides, top and bottom, the front and back are matt black. It has a 6x4.5cm colour display in the centre of the front in the top half of the unit, level with this are two large knobs on the left volume and the right tuning. Under the volume button is a line of five round buttons with the leftmost the on/off being larger. Beyond this five oblong touch buttons all to do with playback, finally four more small round buttons under the tuning knob. While all this may sound complex they are all well marked and their usage is clear.
The stereo speakers are below this in the bottom half of the front behind a grill. The centre of the back has another speaker behind a grill.
The connections on the back are all well marked, DC input, Ethernet, USB (for service) and USB these are all one side of the rear speaker the other side has Auxiliary input, Line out and Headphone out all are 3.5mmk sockets.
Setting up Wi-Fi was easy so moving it around just needs a long mains lead, a battery pack would have been nice then it would be truly portable.
The display when on has three horizontal sections above the top line the service you are using plus a small digital clock. Below the bottom line various icons with the 3cm middle area being devoted to the service being used.
Sound quality on both FM and DAB was fine, you of course have Presets – most useful for FM – these are easy to setup and even change should you wish.
I am often criticized for not talking enough about sound quality as this is always subjective, here the wooden case helps to project and enhance sound from the rear speaker and as this is stereo you are already one up on most basic DAB/FM offerings as they are often only mono or stereo only through headphones, here your stereo is here via built in speakers.
Having looked at a number of Internet radios previously the sheer number of stations is often mind numbing, the selection process here is better as you can select both Genre and Country simply and then cut the list to those you want regularly very easily.
There are two different alarms so this becomes a useful bedside addition, and there is a variable sleep timer so you can drift off to your favourite sounds.
Most units now come with a remote control and this is no exception it is 13x4.5x1cm and has 17 buttons some with dual jobs. There is also a free App available from both the iOS and Google store that can be used as an extra remote control.
USB playback is also available, this and various other features and offers can be digested in the 102 page User Manual which I am delighted to say has readable type, useful illustrations and is totally in English.
The Roberts Stream 93i is available from the first link below for £139.99 with free delivery.
http://www.amazon.co.uk/gp/product/B008R8B8QC?ie=UTF8&tag=gadge0a-21&linkCode=as2&camp=1634