HP Pavilion TS 15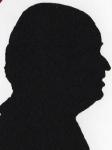 If you are considering Windows 8.1 for you next PC then it really should have touch and this offering from HP has it. Windows 8 was made for touch so if you can change your working style then this could well be a good way to adapt.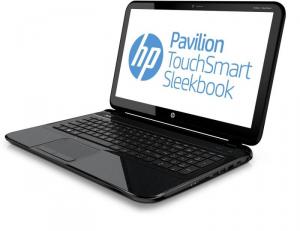 click image to enlarge
The HP Pavilion TouchSmart measures 38x25.5x2cm, the thickest point is at the back and it is barely 1cm at the front.
The left side has DC input, Kensington Lock point, Ethernet, full size HDMI port, two USB2 ports and a Card slot.
The front is clear, the right side has a couple of pin hole LEDs a 3.5mm socket for headphones, a USB port and the Optical drive. The back is also clear as the screen goes over it.
The viewable screen is 36x19.5cm which gives the notional diagonal imperial measurement of 15.6inches. The screen resolution is 1366x768.
There is a 101key keyboard with the alpha and numeric keys being full size. There is a 3.5cm strip behind the keyboard that has the on/off button on the left and the speakers along the back. Both sides have a 2cm strip between the keyboard and the edge.
There is a 10cm area in front of the keyboard that has the 11x7cm trackpad inserted 10cm from the left and 17cm from the right.
As with a lot of recent notebooks I have reviewed recently there are numerous combinations. My unit had an Intel Core i5 1.6GHz running Windows 8.1 64bit version; it has 8GB of RAM and a 750GB hard disc.
In medium to heavy use the battery lasted around five hours between charges and recharged from empty in just over three hours.
Bootup is 15 seconds and shutdown as little as 5 seconds.
It comes with a range of software from McAfee, Microsoft Office 365 and Wild Tangent Games to mention just three but most are trials or limited time items.
Windows 8 was made for touch and if your application or program supports touch then this works well, even basic games such as Freecell support card movement by touch as well as the more conventional mouse or trackpad use. A good number of well established programs such a CorelDRAW have supported touch for many years and for fine close up manipulation it is great.
I can see its use in Microsoft Office 365 but trying new things while getting used to a new operating system is hardly a great use of time although in the long term there may be advantages.
HP are one of the only mainstream manufacturers that are still giving options to have Windows 7 should your business still want it.
Windows 8 with touch is like using a recent mobile phone and for the generation that has just started using such devices I can see only positives but for older people learning to use a touch phone is easy in comparison to learn to use touch on a PC. To take full advantage of the ten point touch available needs skill and dexterity.
If you have to use Windows 8 then the touch version and Windows 8.1 are far more useable even to older people than the non touch version.
The HP Pavilion TS 15 is available from the link below for £599.