Gear 4 X-Factor Lucky Voice Karaoke Party Box

Calling all budding pop stars!! If you love Simon Cowell's flagship TV pop phenomena then this a fun item built just for you.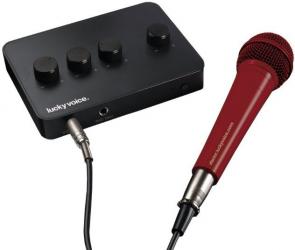 The X-Factor Lucky Voice Karaoke Party Box from Gear 4 is a straightforward kit comprising a microphone, a mixer and all connecting leads necessary to connect up to your laptop or PC. The mic and mixer are both well-built and very much up to the job. The little mixer features a great 'echo' effect to add a bit of production spice to the voice.
You can connect up to your usual PC speakers with ease. Alternatively there is also a cable to allow you to send the sound to your hi-fi or external amplifier for much bigger and better results.
With around 8000 classic tracks on demand from the karaoke giant Lucky Voice's website, including all the X Factor hits, you and your friends are in for a hell of a lot of fun :)
To get you started, each Party Box comes complete with a 'The X Factor' Karaoke voucher code, giving you one month's unlimited access to Lucky Voice's online music catalogue. After that, one month's unlimited singing time is available for £7.99 or 50 song credits is £4.99... But don't forget that you can also use the Lucky Voice set up to sing along with ANY online Karaoke track, such as the ones to be found on YouTube etc. I'm just off to find some Wagner to sing along with(!)
The X-Factor Lucky Voice Karaoke Party Box is available for £49.95 from Gear 4.