Paint Shop Pro Photo X2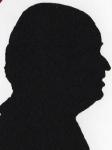 I first used a much earlier version of this software (that was a shareware product) umty uhmm years ago. Now it bears little resemblance to that early challenger in the photo manipulation field, in fact the interface initially looks very different to Paint Shop Pro Photo XI the previous offering.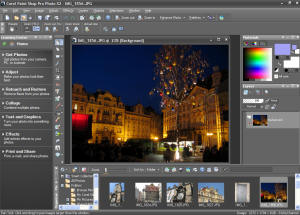 It was a long time ago that I learned roman numerals but I'm fairly certain that XI should be followed by XII and not X2, do I assume that next year will be X3 as they did with Corel Graphics just to avoid the number that goes between 12 and 14.
First the all important amount of space on your hard disc. I found 940MB taken by the 13 minute install on a reasonably fast PC. This needs to be XP or Vista. However things are not finished as Corel always provide extra value unfortunately this is in the terms of a large download that you can only do after registering so for those who do not like forced registration this is rather like Mr Ford in the 20's saying 'you can have any colour you like providing it's black'. So if you want Media One Plus (the new version of Snapfire Plus) then you need to download a 248MB file (it took around 20 minutes for me) and this when installed took 374MB of hard disc space.
The new interface of Paint Shop Pro Photo X2 is in many shades of grey - who say's monochrome is naff - however if you prefer the colours of last years version it is changeable.
As soon as you pick up the box you know there is a manual - I think we all dread those boxes that are so light a good puff of wind will blow them over - it's in the form of a thick paperback book in three languages (French and Spanish are the others) the first 144 pages are in English and these should give you a good grounding in what it should do. For those using Media One Plus you need to refer to the dreaded .PDF.
Apart from Microsoft Word and a version of Windows with Internet Explorer and Outlook Express I cannot think of anything I have used daily for umty uhmm years. In fact this product starts to have the facilities of another manufacturers product that costs a great deal more and is used by professionals.
So what is new is version X2 firstly Layer Styles where you can add drop shadows, glows and reflections with ease. 30 Picture Tubes and 30 Picture Frames. HDR photo merge is a very exciting enhancement that allows you to combine the best bits of two or more similar photos to exit with a great image. Once you start getting better photos people will start trying to rip them off so Visible Watermarks could help keep you work your own.
Perhaps the greatest single enhancement is Express Lab ideal for the novice user who knows something is wrong with an image but just can't put their finger on what it is. I spoke about the new grey interface it's called Graphite Workshop Theme but there is now a much improved Black and White Conversion. A lot has been spoken about the new slimming tool and while an expert could with a lot of work remove the odd few pounds they always need to go somewhere so in the hands of a novice the image will just look stretched. All the effects I have described and more in the last two paragraphs can be tried on the Corel website (2nd link at the end) so if you are not sure what a feature can do see it in action before you buy.
This is a very different product from the shareware product I first used umty uhmm years ago however along with Word Perfect and the other companies that Corel have purchased over the years means no one can say Corel are a one product company.
Doing my Internet searches found Corel PaintShopPro Photo X2 at a best price of £59.97 from the first link below. However upgrades are available at £49 from the 3rd link.
http://www.amazon.co.uk/gp/offer-listing/B000UZBYAA?condition=new
http://www.corel.com/servlet/Satellite/gb/en/Product/1185293061925
http://store.corel.com/webapp/wcs/stores/servlet/ProductDisplay?partNumber=OL_PR12IE