mydlink™ Pro Wire‑Free Camera Kit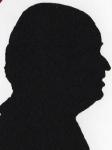 True wire free connection as this kit is Wi-Fi and uses rechargeable batteries that should last months between charges. This means you just need to find somewhere to fix an external camera, this kit also includes a second camera and a motion detector even for total darkness so while other kits say they are wireless often you still need something going through an external wall.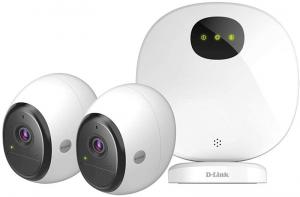 click image to enlarge
The kit is controlled by the siren which can be set to on or off, this connects to your router via a supplied Ethernet lead and this also needs mains power once this is connected you download an App to your phone from either the Android or iOS store. Once you have created an account just follow the prompts and in around two minutes you should be setup.
You now have two cameras each around 8x5x7.5cm although they are more oval than rectangular. Because they have solid rechargeable batteries inside and their signal is sent via Wi-Fi to the siren you can place them anywhere, if light is reasonable you get full colour images if less than good infra-red images take over, this last feature is said to work up to 7.5metres away.
The only part not totally sealed is where you connect the USB to charge the camera and this is behind a very snug fitting bung so unless they are totally immersed in water they should work fine. Rain on the unit should be no problem at all.
The siren is an upright unit and you can set the siren on/off from your phone as well as from the siren it is very loud at over 100dB which is louder than a lot of pneumatic drills.
The cameras are capable of recording full HD at 24FPS.
You can record to an external hard drive – via USB port on the siren – or via micro SD card. Alternatively this kit comes with a free one year cloud subscription.
There are lots of choices in the settings but one I did not find was the ability to turn the cameras off, you do not need to have them recording but they will always live stream if the App is open. The camera can be turned to the wall if placed on furniture; if you fit the camera with the supplied fitting kit this might be harder.
Perhaps the easiest setting is to let the unit know when you leave so everything is activated but of course if you have pets or children this might give lots of false alarms.
You also have two way audio so if a camera is mounted externally you could even speak with the delivery man, or for an internal camera even tell the dog to get off the sofa.
It has the ability to work with Alexa or Google so speech control is possible.
There are videos and lots more information on the second link below.
The mydlink Pro Wire‑Free Camera Kit with Siren from DLink is available from Amazon for £289.99 including delivery.