TVPlayer Plus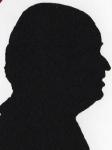 There are a number of TVPlayers available and certainly the main 'terrestrial channels' all have their own 'players' but they all need registration of some sort even if it's just entering your post code. Here there are some extra channels not available on Freeview and this works on Windows 10, Android and iOS.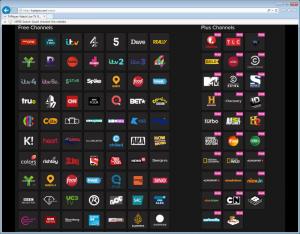 click image to enlarge
The Plus part is not free but it does add extra channels that you might like watching and they are available on a 30 day trial period.
Some basic channels work on Windows7 several will not and as far as I can tell none of the plus channels will this is caused by Flash Player as opposed to HTML everything worked on Windows 10 and technically Windows 7 is not supported. Certainly Internet Explorer 11 is not recommended whereas Microsoft Edge and other browsers in Windows 10 are fine.
Just go to www.tvplayer.com you then get a full screen made up of a window showing either the last channel you watched or for your first time it will be BBC 1. To the right of this Live and Next drop down menus, below this roughly corresponding to the size of the open window icons for all the free channels. To the right of this columns of icons showing the 'Plus' channels.
When using the basic free offering there are limits as to the size of the viewing window, however this should be enough for you to see if you like the offering and at the time of writing you can even get a 'free' trial of the 'Plus' service for one month and your contract is a rolling one so you cancel at any time and only pay for the current month, if this is during the 'free' month then you pay nothing.
One final thing two of the 'Plus' channels are not available during the 'free' trial these are Eurosport 1 and Eurosport 2. During my test I was allowed to view all the channels including Eurosport which for a lot of people might be a good reason to part with £5.99 a month.
The current list of 74 free to view channels includes all the terrestrial channels although ITV will require you to enter a postcode and for some reason ITV 2 was not always working – this did not occur once I had an account – ITV 3 and ITV 4 worked all the time. I can understand the postcode requirement as some areas show different programs. A good number of these channels are not available on Freeview, once you have an account it knows where you are. On certain platforms Channel 5 is problematic either with a grey swirling circle or blank screen.
Now onto the 30 'Plus channels, the two Eurosport, the two History, and two National Geographic channels stood out for me. For children the two Nick Junior channels as well as Nickolodeon and Cartoon Network could be interesting. Others I tried were Sony Movie channel, Discovery and being old Gold.
Once you are paying the screen size can be as large as the panel you are watching on, with a PC or Notebook this is not a problem, on a non-touch Tablet you will need in most cases to be able to open the onscreen keyboard to press the 'Esc' key to make the screen a window again. On a touch screen which Android or iOS as well as some Windows PC's have it's easy, just touch the bottom right of the screen will bring things back.
You can also control volume and even mute output from the bottom left of the screen.
In full screen mode I got excellent images and sound enabling me to have TV in my office while I was doing other things, normal TV is not as my office is away from where the terrestrial aerial inputs my home.
A 10 inch tablet propped behind my keyboard below my screen viewline was for me ideal this is about 51cm from my eyeline.
Full details and of course a 'free' one month trial are available at www.tvplayer.com Should you like what they offer there is a discounted '12 month offer' plan that works out at a tad under £5 a month.