Smart City Pack 1401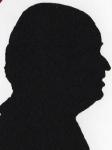 Certainly not what you would use for hiking or hill climbing this is a smart – part leather – unit that you might use to go for your office meeting or round and about in a city environment and not when crossing a muddy field scenario.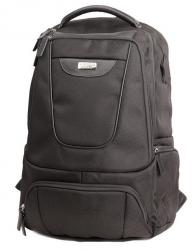 click image to enlarge
First let's say it now it's not cheap in fact it's a well-made offering with bells and whistles so the word I am searching for is quality and that -as most will know - you have to pay for.
It is 2.1kilos in weight when empty and the overall dimensions are 50x32x13cm the last figure is without any expansion to the sides, when fully expanded you can add up to another 10cm.
I counted ten zips in pairs so that pockets can open the way you want them to. I am told all the zips are puncture resistant which I must admit is a new feature to me.
Something I have come across before is anti-slash technology which is stated to make the material five times stronger than steel on a weight for weight basis.
Biometric Fingerprint Lock enables the unit to remain locked even if you have it ripped from your body as only one of people enrolled can open it, all very James Bond.
Finally it is a Smart Device Charger with the ability to charge most devices up to three times.
Now onto the City Pack itself it is made of Nylon, Leather, Aramid Fibre and has Polyester Lining.
The front compartment tapers towards the top to a minimum of 22cm wide and at the bottom is 28cm wide it is 27cm deep and has the device charging point in it. The main compartment is 48x33cm and has two pockets and two pen pockets in its front. The back compartment is 48x33cm and has four open pockets in its rear for extra bits and pieces.
Returning to the front near the base is a 25x15cm zipped pocket and each side has small 15x10cm zipped pockets. This gives lots of opportunity to have everyone swearing at you at ticket barriers as you try to locate your ticket.
The straps are perhaps the best I have seen on any backpack, they are six centimetres wide and curve outward and run down the whole back of the unit with expansion – or contraction – in plenty available to ensure the perfect fit in total another 45cm of strap on each side.
It was very comfortable in all the times I wore it while out and about. There are two heavily padded sections to ensure whatever is in the backpack does not stick into your back the lower area is 33x16cm and after a 7cm gap the top area is 23x19cm which ensures your back is always both padded and supported.
Finally on the top a padded leather carry handle 17x3cm for those times when you carry the backpack.
Certainly a top end product that is very well made, it has security and the ability to recharge devices on the move but being black it does not shout out look I am carrying high value items mug me so the person wearing it should not attract unwanted attention.
The Numinous London 1401 is available from the link below for £285 which includes delivery.