Philips AirFryer TurboStar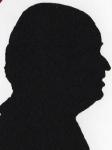 This is much smaller than the original version I reviewed some years ago. The basic shape is the same but the heating element inside is humped which should mean the heat is better distributed amongst whatever is being cooked.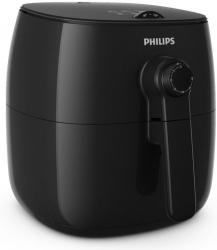 click image to enlarge
Philips Viva Collection Airfryer TurboStar measures 27x24x24cm not including the handle and the part that can contain items - the basket - is 18x18x8cm, this area lifts out. While most will use it to cook chips – which it does very nicely – however it can do much more.
This is not a deep fat fryer in fact you can cook items without any fat or oil at all they taste OK but look a little anaemic, a teaspoon of oil over the chips – fresh or frozen – gives a nice finish so they look inviting and they are crisp.
The secret of the TurboStar is hot air. The tiny amount of oil is their but the real secret is the circulating hot air so everything gets cooked evenly, unlike the earlier version that you had to preheat this starts cooking while it is getting up to heat.
The front of the unit has a circular timer graduated up to 30 minutes. The flat top of the unit has a small protrusion that is the cooking temperature control this goes from 80-200 degrees Celsius.
The base of the mesh basket is packed separately but it clips easily in and can be removed easily for cleaning.
There is a small booklet that is filled with small illustrations which I found more confusing than helpful this is done so that the same booklet can be used in multiple countries I just hope the one word shown at various points in the illustrations means the same in all those countries the word in question is 'Max' relating to filling levels.
There is however a far more helpful four language full colour 21x21cm booklet which shows four different sample receipts for Roasted Asian Chicken Wings, Potato Gratin, Sweet and Sour Shrimp and Ratatouille. It also suggests downloading the Philips AirFryer App from either the iOS or the Android store for more receipts.
While one of the four language per page illustrations is in English the words are not always those normally used here for example for Ratatouille Tempreture 180c, Cooking Time 15min. Then the receipt, roughly chop one Bell Pepper, 100g Eggplant and 100g Zucchini….
The App is better but one thing that the full colour booklet has that is probably all most will need is two sides of General Cooking Times and Temperatures. After each basic food groups are three columns approx. calories, cooking time and temperature.
The foods listed are Frozen Fries, Homemade Fries, Potato Wedges, Frozen Snacks, Port Chops, Hamburger, Sausages, Drumsticks, Chicken Breast, Quiche, Muffins, Cake, Mixed Vegetables, Pre Baked Bread Rolls, Fresh Bread Rolls, Fish, Shellfish and Breaded Schnitzel.
So from that you probably stop thinking of this a chip fryer and more a hot air cooker. With the example foods given yes there are chips and chips cooked well are excellent and not that unhealthy but a dietitian would probably still need resuscitation at that statement.
Perhaps a better statement is a cooking device for all the things you like but should only enjoy in moderation.
The Philips AirFryer HD 9621 TurboStar is available direct from Philips for £165 including delivery.